In a world filled with constant fear, uncertainty, and doubt, only a few projects manage to rise to the top of the leaderboard due to their high-quality products. Openfabric AI takes pride in having its $OFN token recognized by Certik as one of the most secure cryptocurrencies in the industry.
Security is arguably the most crucial factor to consider when assessing the quality of a digital asset. Recognizing this importance, Openfabric AI decided to put its own technology to the test by having the Openfabric AI generate its own code for the $OFN token's smart contract.
We are delighted to announce that Openfabric AI's $OFN token has effectively passed the industry's demanding standardized security evaluation carried out by Certik. Consequently, it has secured a position within the upper echelon, ranking among the top 10% of projects featured on the Skynet directory due to its impressive security score.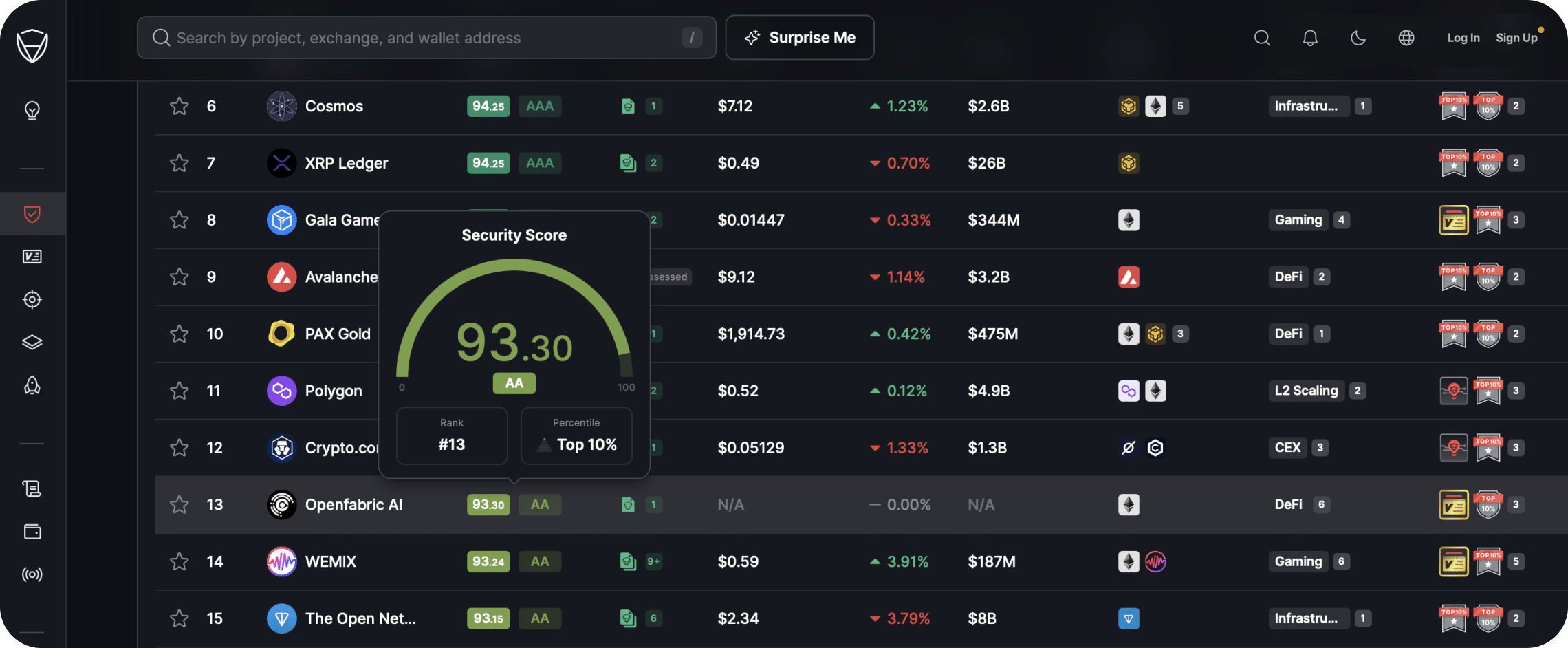 Even before we embark on a detailed analysis of the audit report, there are four prominent badges that should immediately catch your attention at the very top of the project's page. These badges signify Active Bounty, KYC Gold, Top 10% Security Score, and Top 10% Subscores Verification. These qualitative factors on their own play a pivotal role in setting apart projects that are rated highly in terms of security from those that are positioned lower in the ranking hierarchy.

These badges are more than just symbols; they are indicators of the project's commitment to security and trustworthiness. Let's break down the significance of each badge:
Active Bounty: This badge indicates that the project has an active bounty program. In the context of security, this means that the project is proactively encouraging ethical hackers and security researchers to identify and report vulnerabilities. This demonstrates a commitment to addressing security issues promptly.
KYC Gold: The KYC (Know Your Customer) Gold badge suggests that the project has undergone a rigorous identity verification process. This is essential for maintaining transparency and ensuring that the individuals behind the project are known and accountable.
Top 10% Security Score: A high security score means that the project has been assessed and rated highly for its security measures. Achieving a position in the top 10% indicates that it outperforms a significant majority of projects in terms of security.
Top 10% Subscores Verification: This badge further reinforces the project's commitment to security by indicating that it excels in various subcategories related to security. It highlights the project's comprehensive approach to ensuring the safety of its users and their assets.
Let's delve into the results of the security audit conducted for $OFN in order to gain a deeper understanding of why our performance in this regard has been robust.
Security Score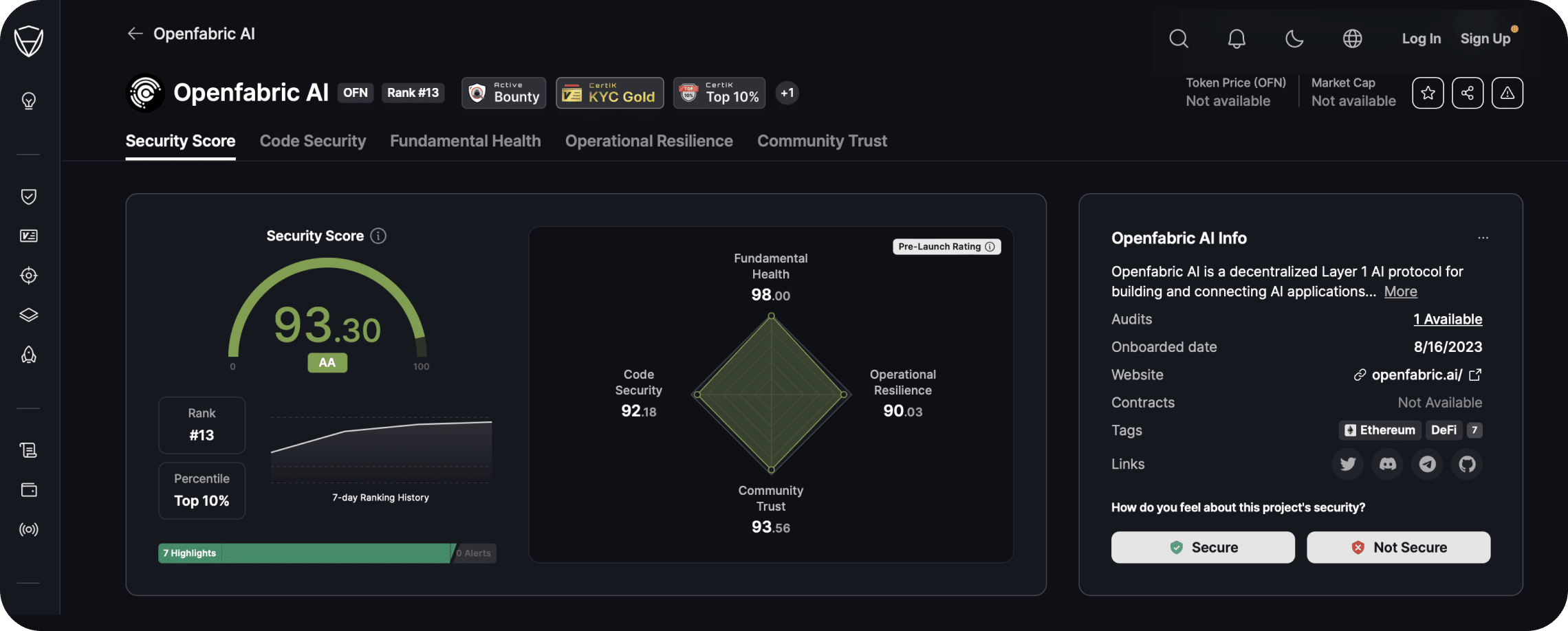 Double AA rated and consistently maintaining a security score > 93, Openfabric AI's $OFN token has scored a nearly perfect A+ across all 4 of the key evaluation parameters: Code Security, Fundamental Health, Operational Resilience, Community Trust.
Code Security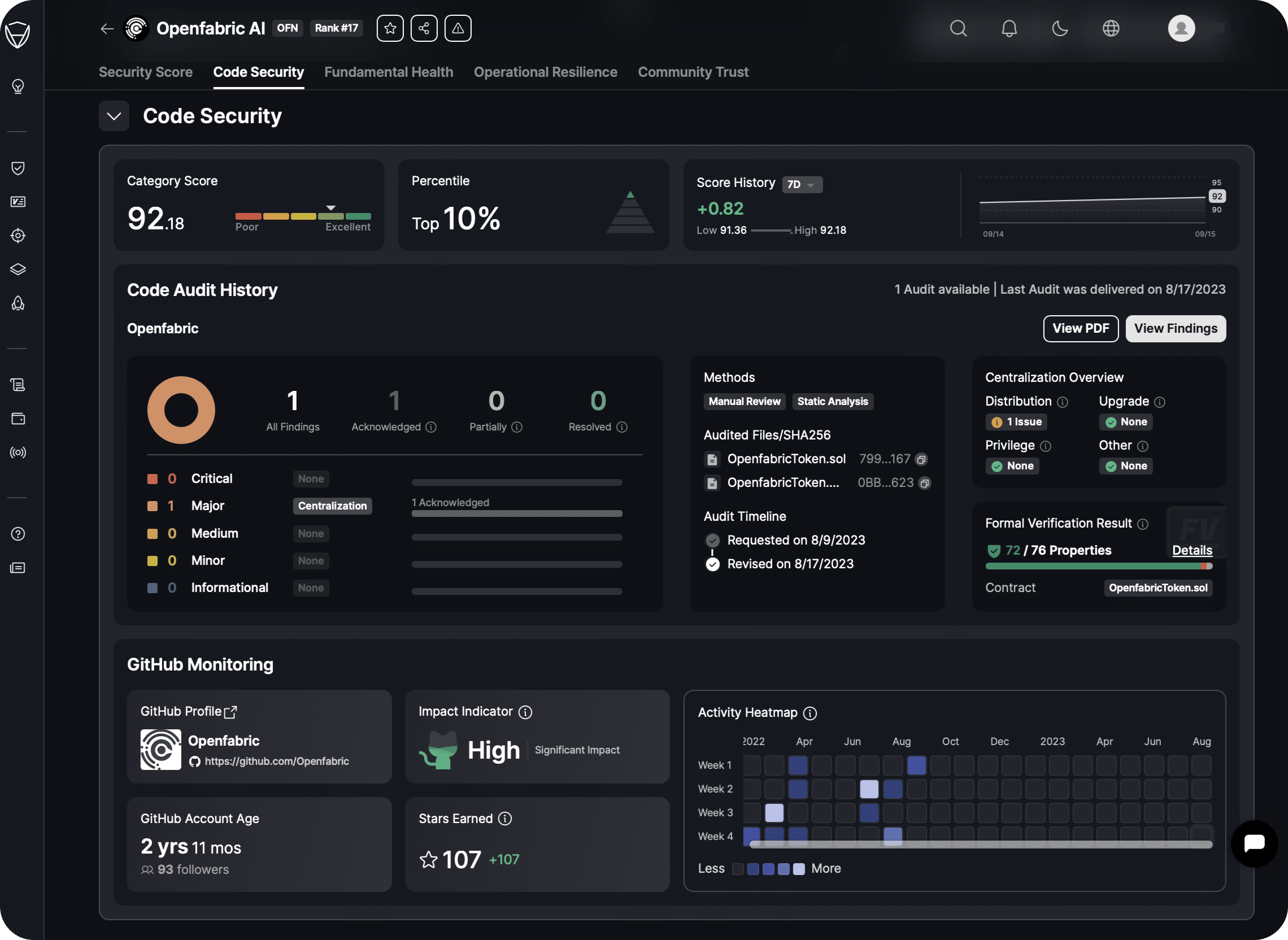 The $OFN token audit involved a meticulous manual examination of its code, encompassing thorough testing for all 72 aspects of the Formal Verification process. It is worth noting that the contract was determined to be without any flaws in this aspect. If you wish to delve further into each specific property and perform your own manual review, please visit the $OFN listing page.
Fundamental Health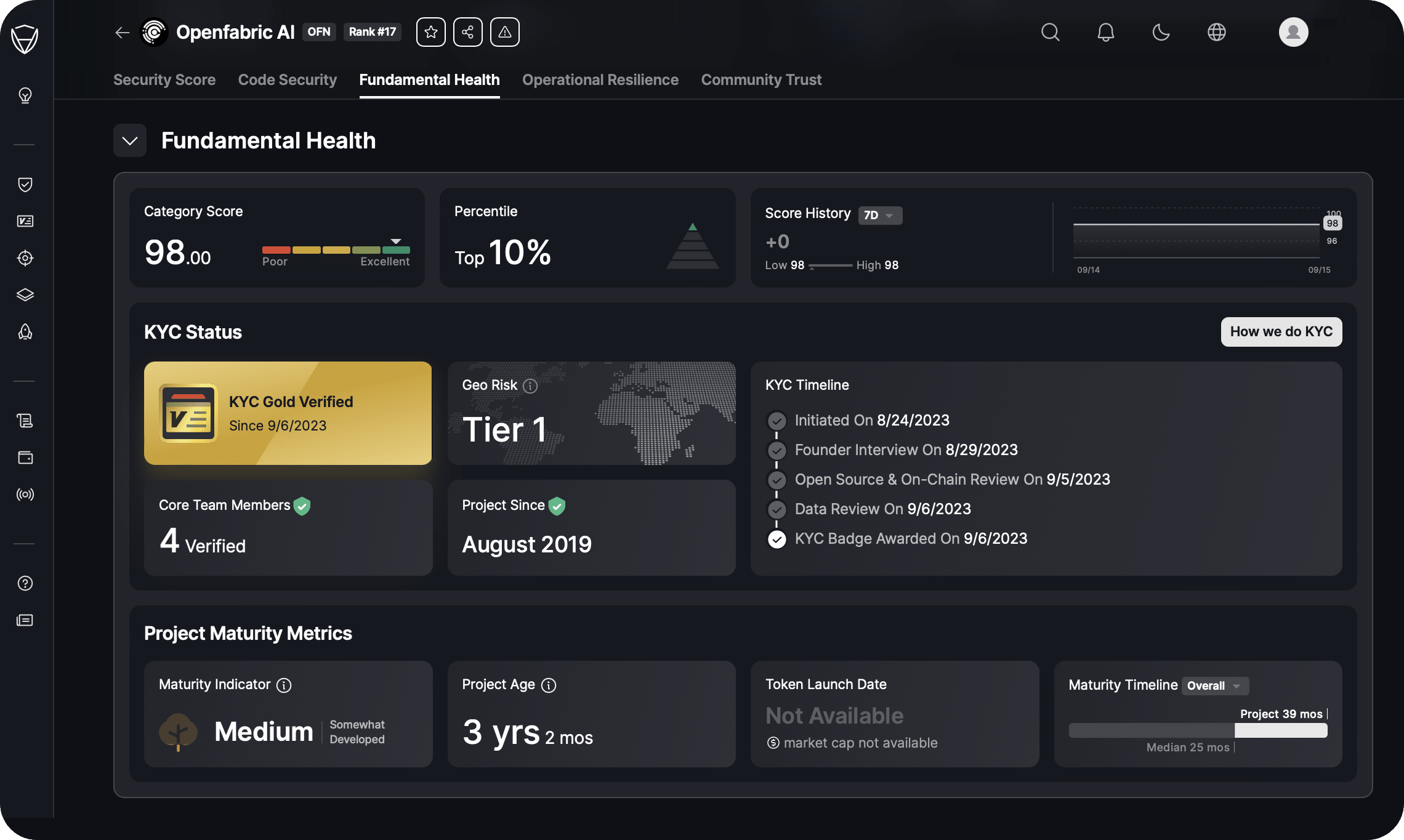 With a remarkable score of 98% in terms of its Fundamental Health, Openfabric AI ranks within the upper echelon, belonging to the top 10% of all projects listed on Skynet. Moreover, its Geo Risk assessment of Tier 1 indicates an exceptional level of geographic accountability.
This classification underscores that Openfabric AI operates within a jurisdiction known for its robust judicial cooperation, a well-functioning criminal justice system, effective anti-money laundering measures, and a low susceptibility to corruption.In essence, the project not only boasts strong fundamentals but also enjoys the benefits of a highly reliable operational environment from a legal and ethical standpoint.
Operational Resilience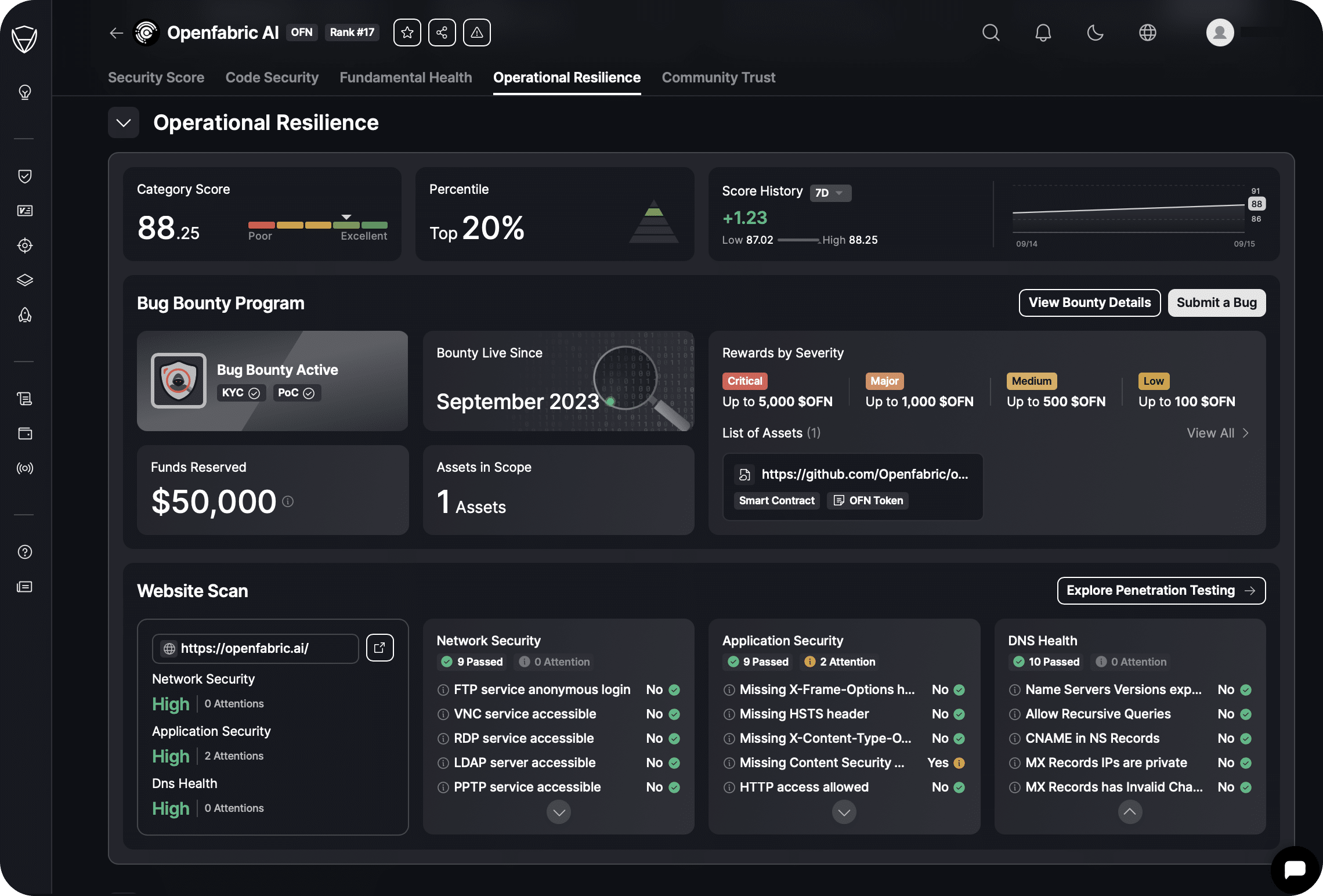 Operational Resilience is a concept that focuses on Openfabric AI's on-chain products, specifically the $OFN Token, and their ability to continue functioning even in challenging conditions.
To maintain the highest levels of security for its software products, Openfabric AI recognizes the importance of Bug Bounty programs. To demonstrate its commitment, Openfabric AI has set aside and earmarked $50,000 for its Certik Bug Bounty Program.
The program offers rewards ranging from 100 $OFN to 5,000 $OFN per bug discovered. Openfabric AI actively encourages developers to participate in the hunt for issues within its contract; they genuinely want you to uncover any potential problems.
The rewards are structured as follows:
Critical Severity | 5,000 $OFN:
These are issues of the utmost concern, potentially capable of causing catastrophic problems such as severe code issues that could lead to existential threats, drains, freezes, or ownership revocation.
Major Severity | 1,000 $OFN:
This category encompasses issues with a high likelihood of undesirable side-effects. While they don't pose an existential risk to the entire ecosystem, they are significant concerns that need to be addressed.
Medium Severity | 500 $OFN:
Medium-severity issues are less risky but still warrant attention. They may not lead to long-term harm, but they should be addressed to maintain the system's overall integrity.
Low Severity | 100 $OFN:
This category includes relatively simple logical optimizations. While not as critical as the higher-severity issues, Openfabric AI values the improvement of these minor issues.
In essence, Openfabric AI is committed to fostering a robust and secure ecosystem for its users and is willing to reward developers generously for their efforts in identifying and rectifying any potential vulnerabilities in its contract.
Community Trust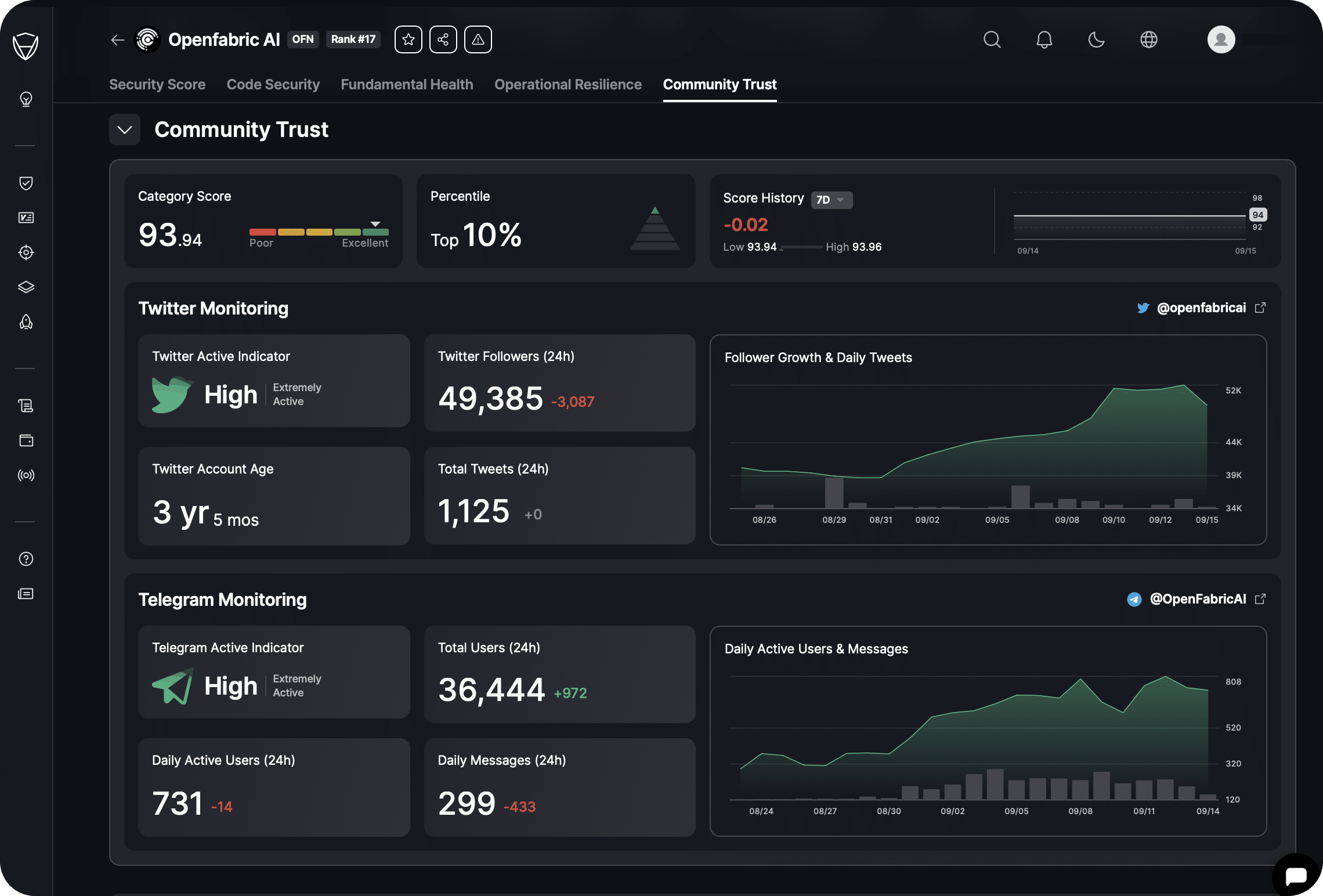 Our commitment to fostering these relationships extends to you, and we encourage you to actively engage with us. Join our community, share your ideas, provide feedback, and be a vital part of our journey towards innovation and growth.
Together, we can shape the future of Openfabric AI and create a thriving ecosystem where everyone's voice is heard and valued.
Join us today and let's build a stronger, united community together.
About Certik?
Certik, a distinguished and reputable blockchain security company, specializes in safeguarding the integrity and security of blockchain projects and smart contracts. Established by a team of computer scientists and security experts, Certik is deeply committed to advancing blockchain technology adoption by addressing one of its most critical challenges: security. Their unwavering dedication to ensuring the safety and reliability of blockchain endeavors has earned Certik widespread trust and respect.
They have become valued partners for a multitude of blockchain startups, DeFi platforms, and well-established projects. Certik's pivotal role in fortifying trust and security within the blockchain space significantly contributes to its enduring viability and widespread adoption.
Connect with us and Join the community:
Twitter | Telegram | Discord | LinkedIn | Youtube