Create images from simple prompts via Telegram
Learn how to use the Artfabric AI App on Telegram to create unique images from basic text prompts. It's a simple, fun way to turn your ideas into beautiful visuals. Let's explore together and see how this tool can bring your imagination to life.
How to get started with Artfabric AI App on Telegram
Artfabric AI App is accessible anytime and anywhere, ensuring convenience and flexibility. Whether using a smartphone, laptop, or desktop, you can easily access the bot through dedicated apps or by logging in via the web. However, it's essential to remember that joining the Openfabricai Telegram Bot, you will need to login your account and join Openfaricai community. So, ensure your account is ready before diving into the exciting world of Artfabric Bot!
We are going to show you 3 simple steps on how to generate images using Artfabric AI Bot. So, let's get started.
Join our Telegram community
Once you log in and verify your account, you can head over to start unleashing your imagination.
Start generating images with Artfabric AI App
You can generate images with the Artfabric AI BOT on Telegram anytime, anywhere. Also, it is absolutely FREE.
Using the /start and /imagine commands
In order to unleash your imagination, you will need to play around:
/start – Delivers a summary and details of accessible commands.
/imagine – Generate AI images using Artfabric AI BOT.
The /imagine command generates a unique image from a short text description (known as a Prompt). Once the image has been created, you have the option to regenerate it if you do not like the image/results. Additionally, you will have options to share your image with friends, family, and loved ones directly on Twitter.
What you need to know: Commands are used to create images, change default settings, monitor user info, and perform other helpful tasks.
Pro Tips: To get started with /imagine:

type /imagine
type a description of the image you want to create in the prompt field (e.g astronaut floating in outer space).
Click send your message. (this would take a few seconds to generate the result) so stick around to see what your imagination got you.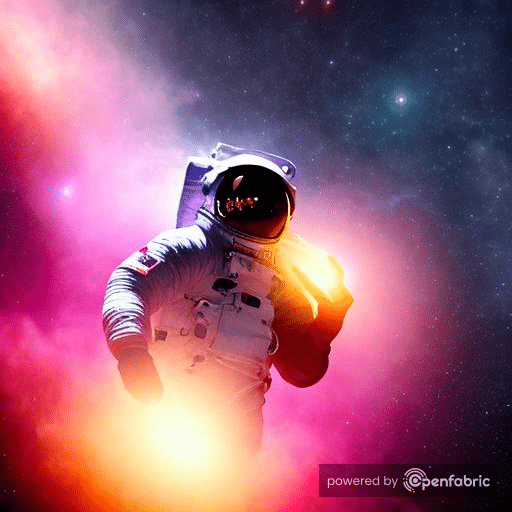 Community Guidelines. This is basically a set of rules that allows community members to interact with the Artfabric AI App and other members of the community. What does it mean? Since this is a free tool, we expect to have a huge number of active users unleashing their imagination with the Artfabric AI App. So, you (active user) will have a limited amount of time to generate images using the /imagine prompt. Lastly, our support team will be available 24/7 to answer any questions and provide technical support when needed.