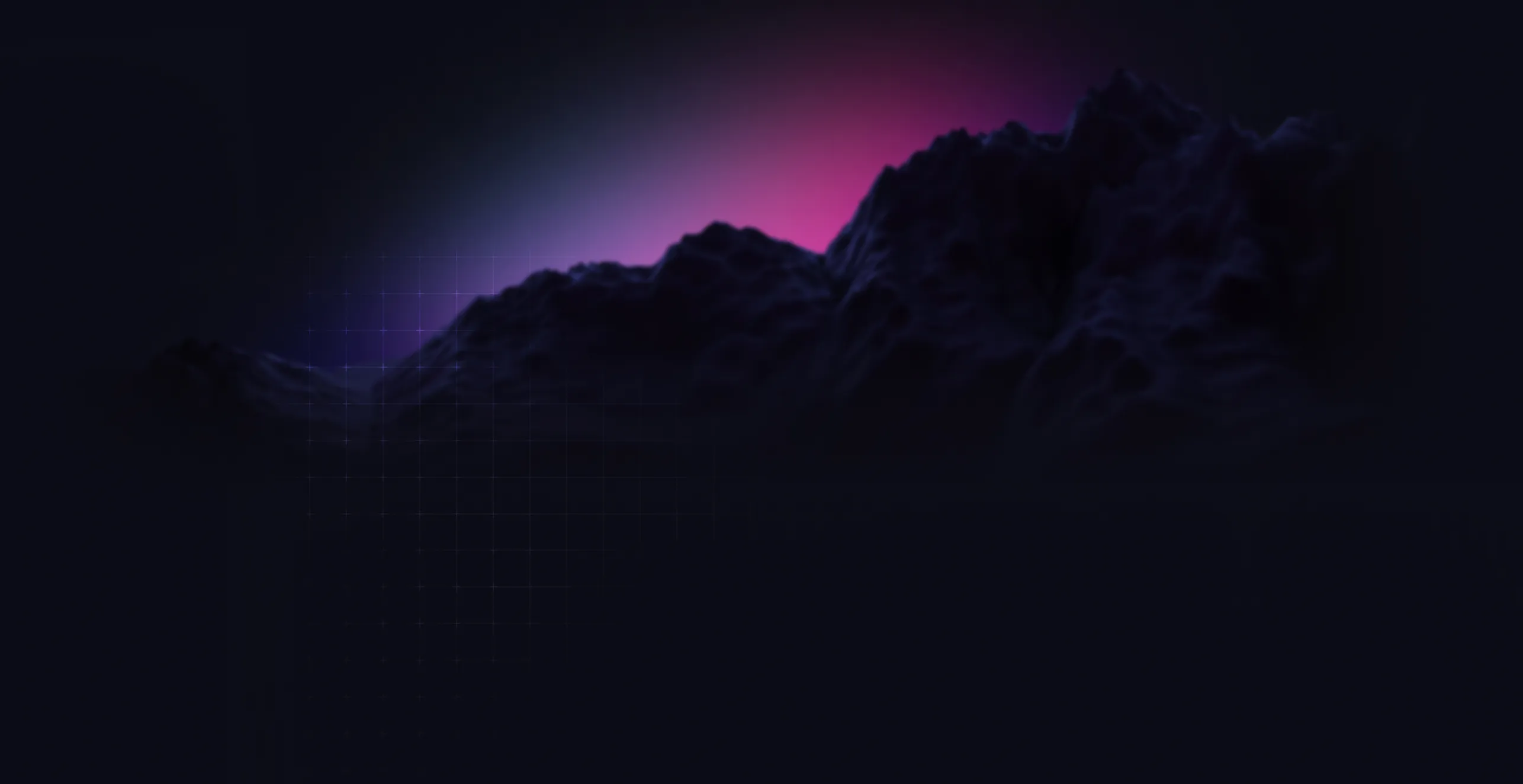 October Ecosystem Roundup
November 9, 202311 minutes read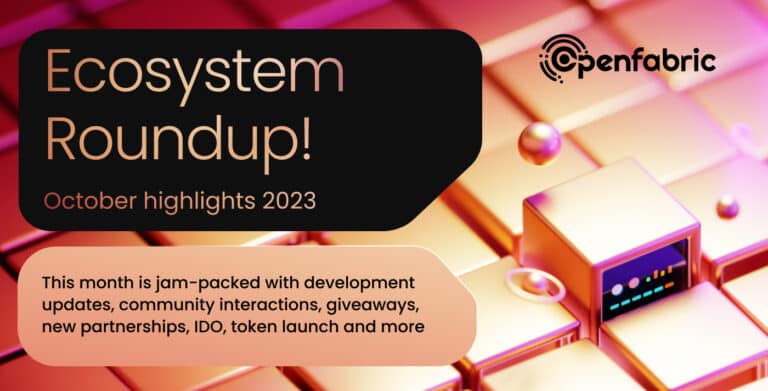 October marked a momentous period for Openfabric AI, as it ushered in numerous noteworthy achievements. Throughout the month, Openfabric AI celebrated several key milestones, including engaging in a multitude of AMAs, offering generous giveaways to its community members, launching its IDO on leading IDO Launchpads, and Launching the $OFN token on tier 1 CEX.
Let's take a look at each of these remarkable accomplishments in this comprehensive ecosystem roundup.
IDO Date Announced
The month kicked off with the exciting announcement of the IDO launch dates for various Launchpads, marking a calendar filled with opportunities:
ChainGPT: 17th October
Enjinstarter: 18th October
Seedify: 19th October
Poolz finance: 20th October
New Advisor Onboarded
To ensure the flawless execution of the upcoming IDO and the much-anticipated launch of the $OFN token, Openfabric AI has enlisted the guidance and expertise of Amid Yazdi, a seasoned advisor with a wealth of experience. Amid will assume a pivotal role in overseeing the IDO process and engaging with Key Opinion Leaders (KOLs) to drive our project forward.
No. 10 at Certik leaderboard
Our journey on Certik continues to be a remarkable one as we proudly secure the 10th spot among the world's top cryptocurrencies!
$OFN has achieved this prestigious ranking, placing it alongside the likes of Polygon, Avalanche, and other renowned cryptocurrencies. With an impressive security score of 94.01 and three 'As' to our name, our commitment to robust security and excellence is undoubtedly paying off.
AMA
The month of October was bustling with a series of engaging Ask Me Anything (AMA) sessions featuring Openfabric AI's CEO, Andrei Tara.
During these insightful sessions, Andrei shed light on our development processes and outlined our exciting plans for the future. If you happened to miss any of these informative discussions, fret not, because you can always catch up by revisiting them right here:
Our new website got a major update
We're absolutely thrilled to unveil a stunning transformation – our revamped website! 🥳
This exciting upgrade is a testament to the hard work and dedication of our talented developers. They've put in countless hours to give our online presence a fresh, modern, and user-friendly look that we can't wait for you to explore.
So, what's new on our website?
Let's take a moment to appreciate the remarkable changes:
 Sleek Design: Our website now boasts a sleek and contemporary design that's not only visually appealing but also more intuitive to navigate. You'll find it easier than ever to access the information you need.
Enhanced User Experience: We've made significant improvements to ensure that your experience on our website is seamless. Whether you're here to learn more about us, our products, or the latest updates, you'll find everything at your fingertips.
Rich Content: Dive into an array of rich, informative content that delves deeper into what we're all about. Whether you're a newcomer curious about our mission or a long-time supporter, there's something for everyone.
Fresh Insights: Stay informed and up to date with our latest blog posts, news, and announcements. Our website is your hub for staying in the loop about all things related to our project.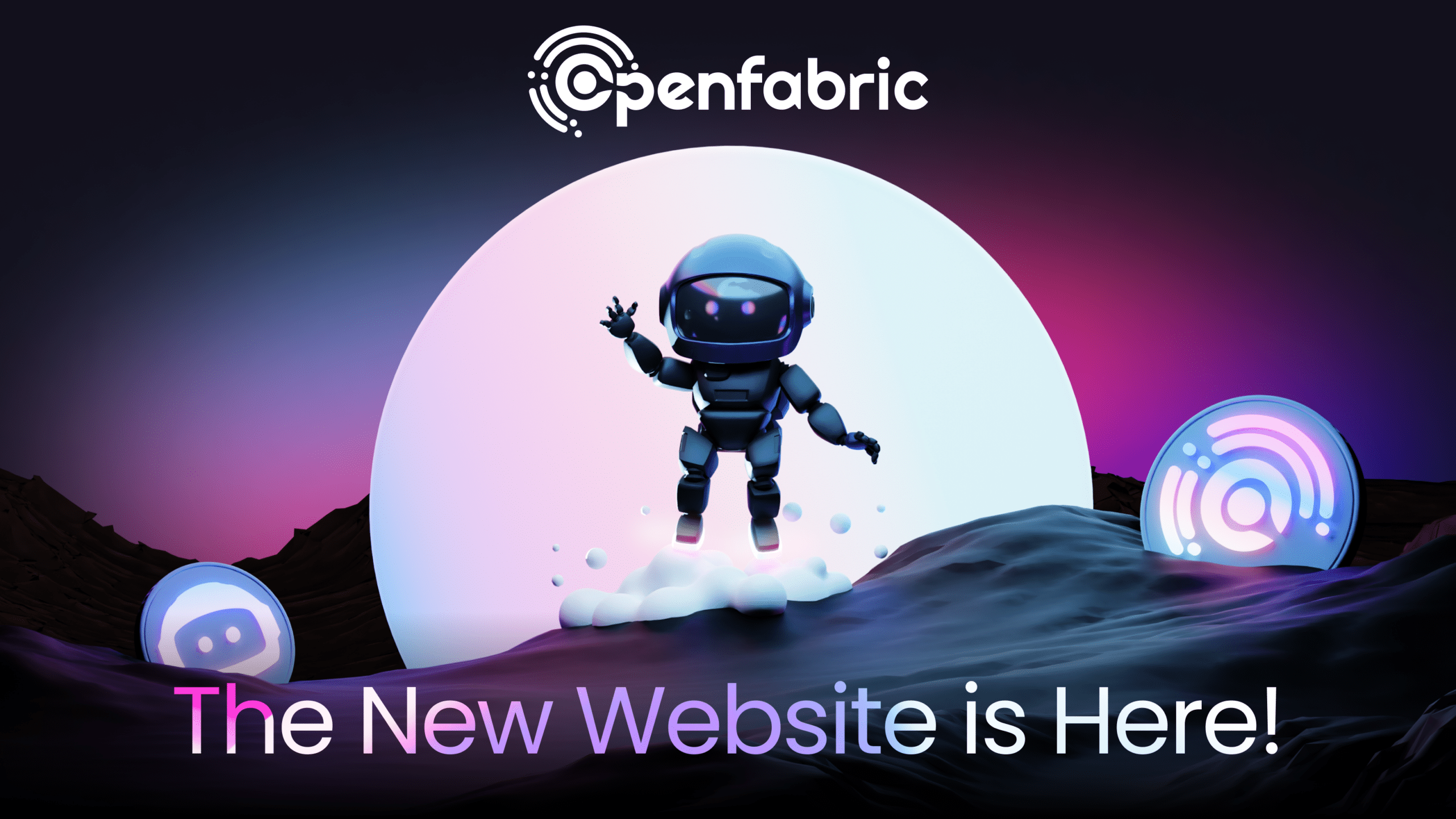 We encourage you to visit our revamped website and see for yourself the incredible work our team has put into this transformation. Your feedback and support mean the world to us, and we can't wait to hear what you think about our fresh new look.
Explore our website, discover our vision, and be a part of our journey as we continue to push the boundaries of innovation and technology. Here's to an exciting new chapter! 🚀 https://openfabric.ai
Openfabric AI Documentation is live!
We understand that when it comes to innovative technologies like Openfabric AI and its associated $OFN token, having easy access to comprehensive information is key. That's why we're excited to share that our Openfabric AI Documentation is now available for you to explore.
This resource is your gateway to a wealth of knowledge about our platform, providing insights into the intricacies of #openfabricai and the functionality and potential of the $OFN token.
Whether you're a curious newcomer or a seasoned investor, this documentation is designed to cater to your needs, offering you the insights and details you require to make informed decisions.
From an overview of the technology and its applications to details about the $OFN token, its use cases, and much more, our documentation is your one-stop destination for all things Openfabric AI.
So, don't hesitate to check it out and expand your understanding of this groundbreaking project. We believe that well-informed individuals are better equipped to make the most of the opportunities that Openfabric AI and $OFN present, and this documentation is here to support you on your journey.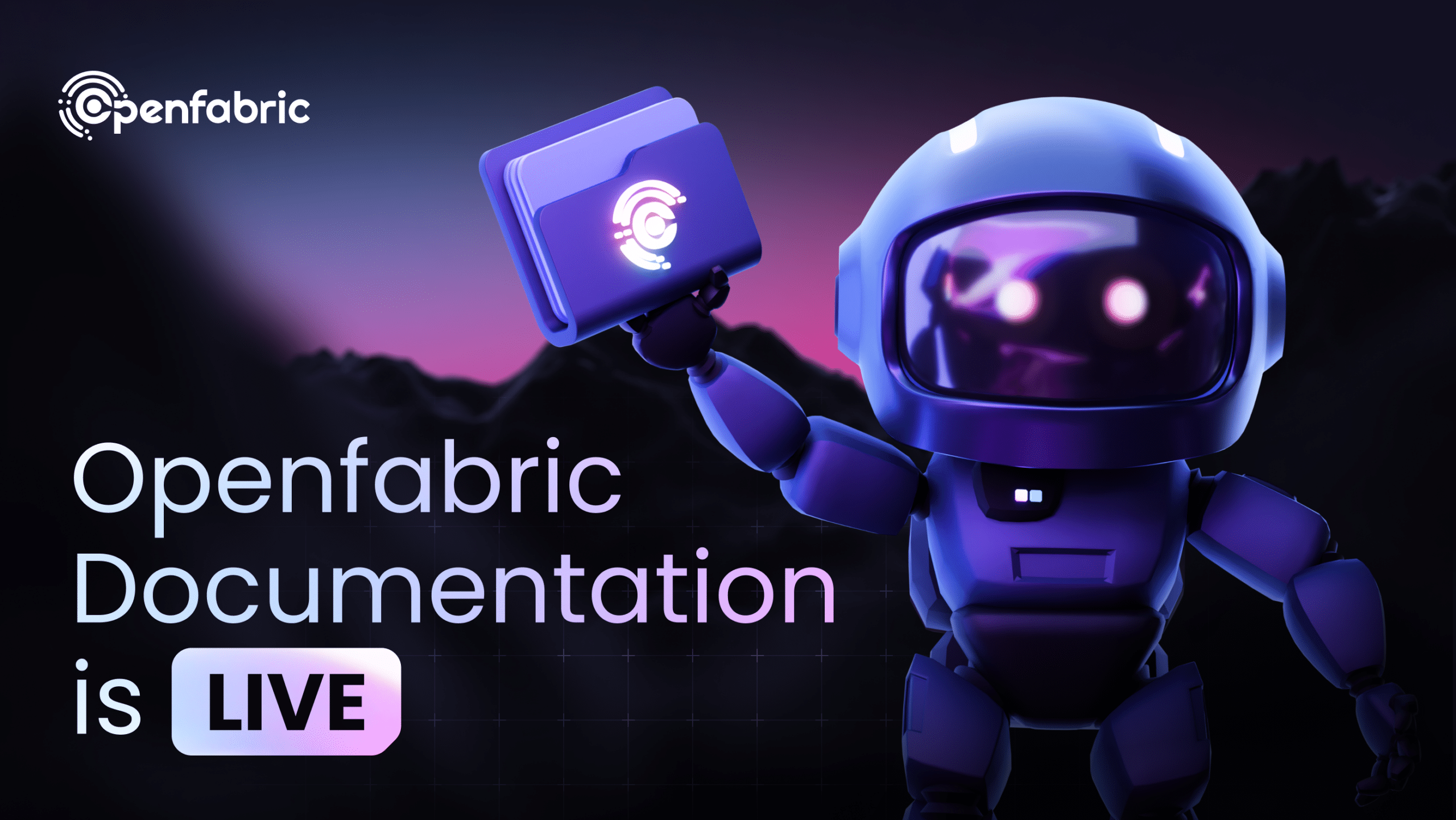 Explore, learn, and join us in shaping the future of AI and blockchain technology: https://docs.openfabric.ai
Giveaway!
Openfabric AI caught the attention of top publications
Openfabric AI has made waves in the industry, capturing the attention of nearly 500 publications, including renowned names such as Microsoft, Cointelegraph, Altcoinbuzz, Insider, Benzinga, and many more.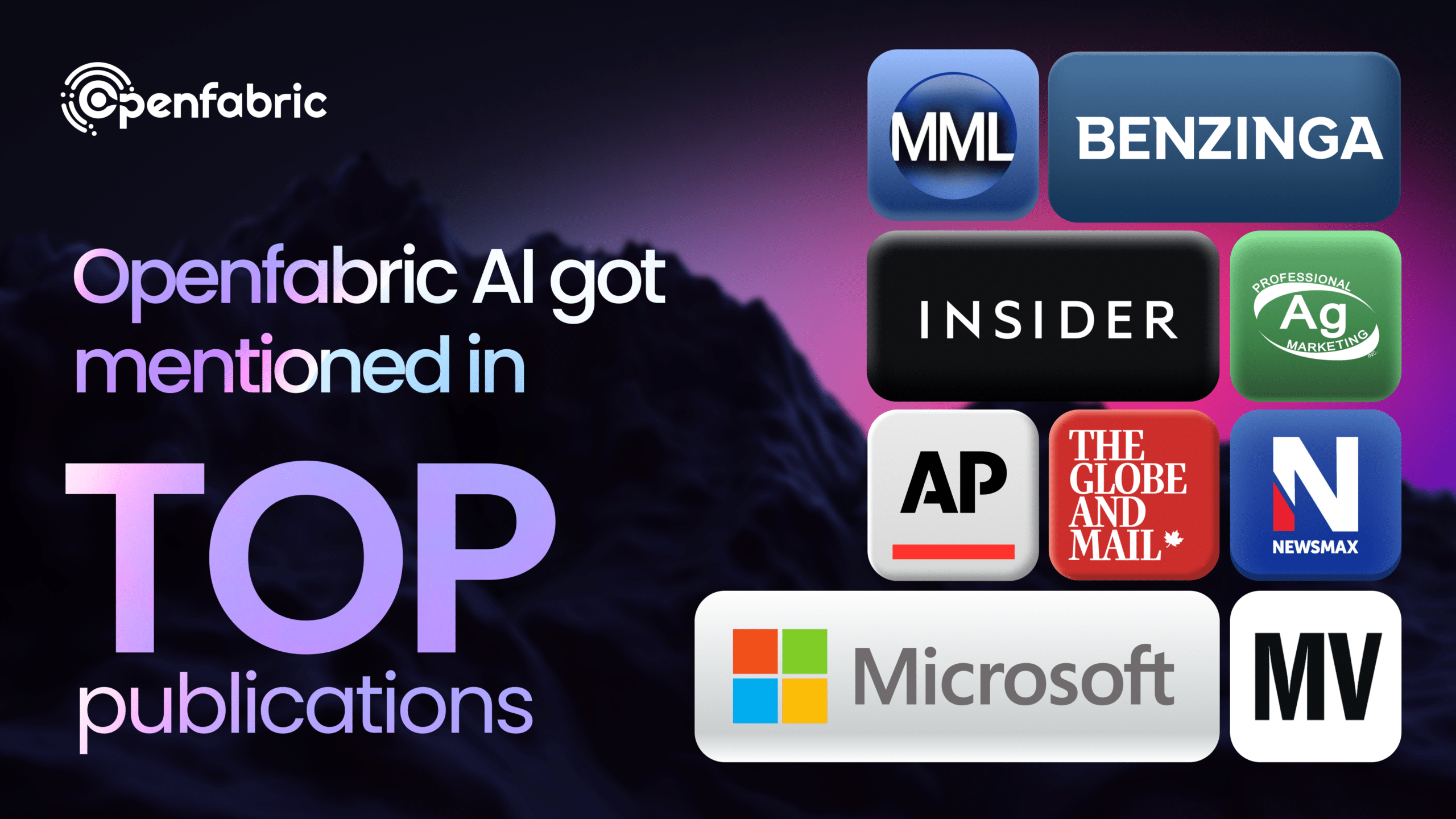 To dive deeper into the extensive coverage and explore the latest developments, visit our website: https://Openfabric.ai
100k X followers!
In a compelling demonstration of our marketing team's remarkable dedication and prowess, we've achieved a significant milestone – a whopping 100,000 followers on X!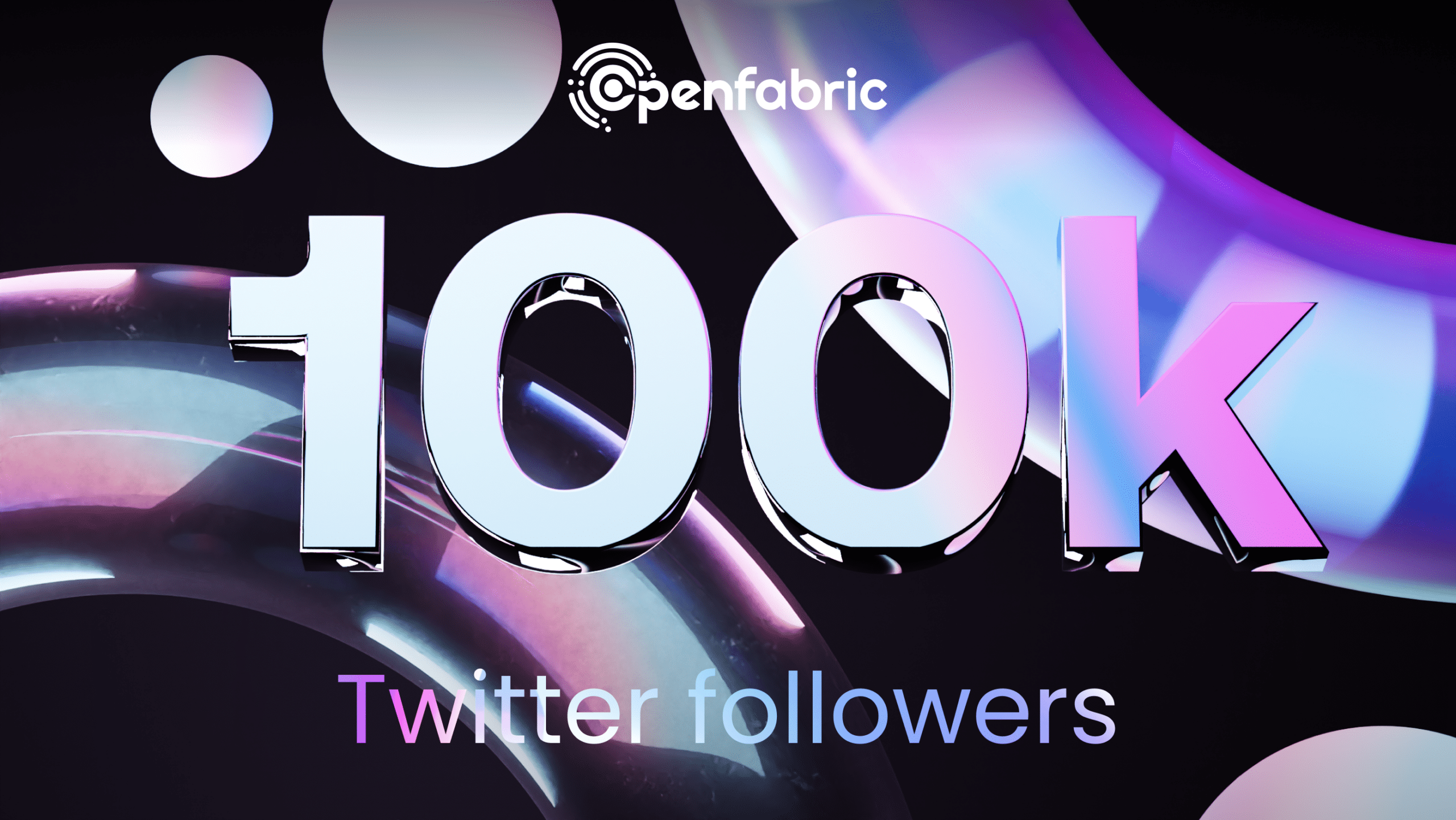 But that's not all; we're not stopping there. Our sights are now set on the incredible goal of reaching 200,000 followers! Stay tuned for our exciting journey ahead.
$OFN is now listed on CMC, Coingecko and Cryptorank
Exciting news for $OFN enthusiasts! Openfabric AI has secured listings on some of the most prominent cryptocurrency tracking platforms, making it easier than ever for you to keep a close eye on its performance.
Don't miss out; add $OFN to your watchlist on these platforms:
📈 CoinMarketCap: https://coinmarketcap.com/currencies/openfabric-ai/
🔍 Cryptorank: https://cryptorank.io/ico/openfabric-ai
🦎 Coingecko: https://www.coingecko.com/en/coins/openfabric
Stay informed and stay ahead with $OFN!
Research sparks the best innovation
Just like Bitcoin, Openfabric AI has been steadfastly dedicated to making deep research about artificial intelligence and decentralization since 2019. For further details, visit our website here: https://openfabric.ai/technology.
Partnerships
During the month of October, we forged strategic alliances with some of the leading projects in the industry.
| | |
| --- | --- |
| PIP | PIP Payment is a crypto payment company invested by Coinbase and incubated by Binance and $OFN is now accessible via pip payment. Website: https://www.getpip.com/ |
| Famswap | FamSwap is a DEX on the BSC, employing an AMM model to offer secure and diverse cryptocurrency trading experiences. Website: https://famdao.org/ |
| HyperGPT | HyperGPT is a marketplace for all AI solutions and seamless SDK where you can access integrated AI solutions! Website: https://hypergpt.ai/ |
| Team Finance | Team Finance allows companies to create, vest, lock, track, and spin up staking pools for their tokens. Website: https://team.finance/ |
| Decubate | Decubate is your all-in-one platform for Web3 success. Website: https://decubate.com/ |
IEEE validates Openfabric AI research
IEEEXplore stands as one of the foremost computer journals in the industry, and we have some exciting news to share with you!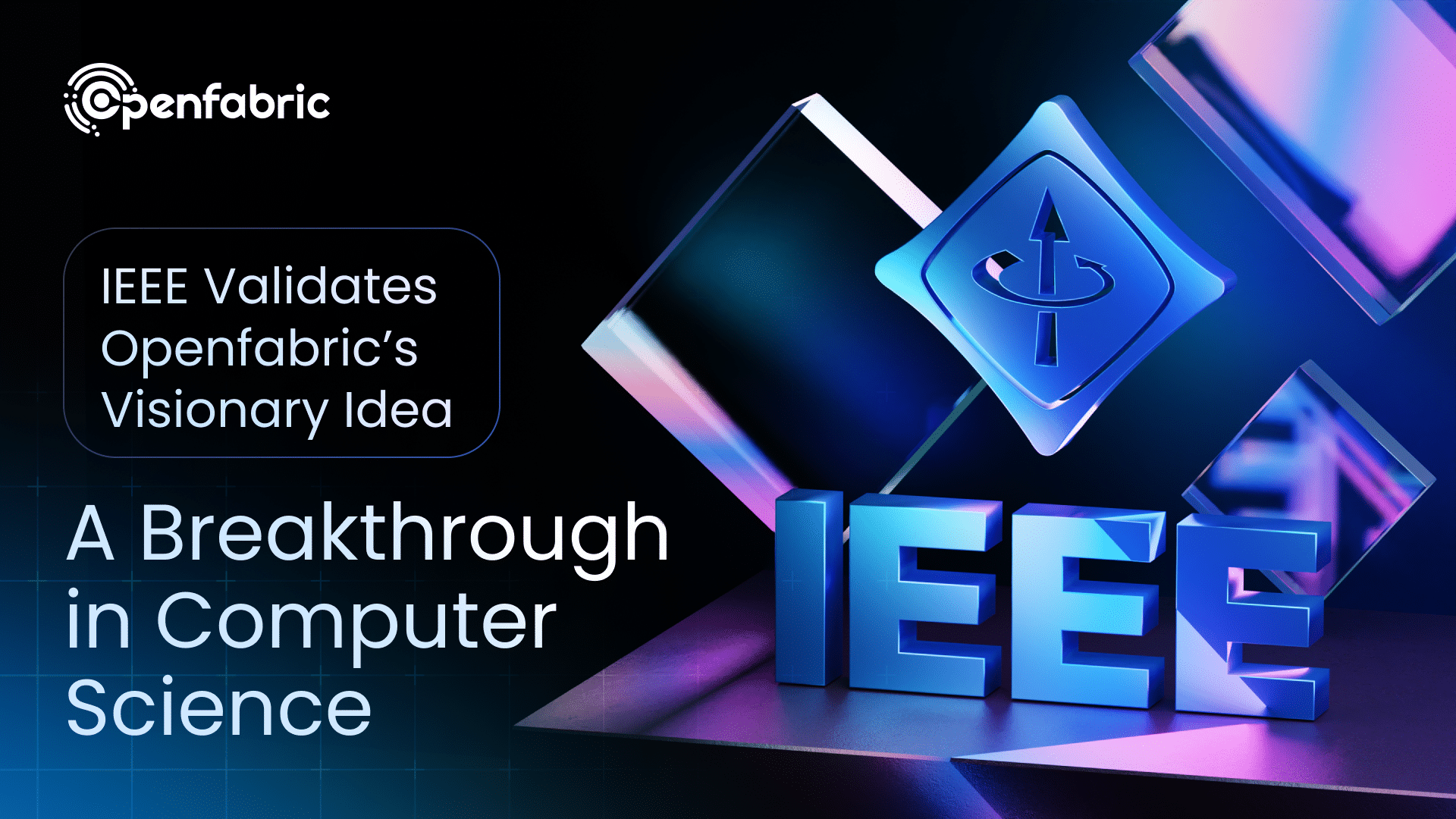 Openfabric AI's visionary idea has received validation and recognition from none other than IEEEXplore. Discover the full details right here: https://ieeexplore.ieee.org/document/10288434
IDO
IDO was a success with all Launchpad sold out in seconds!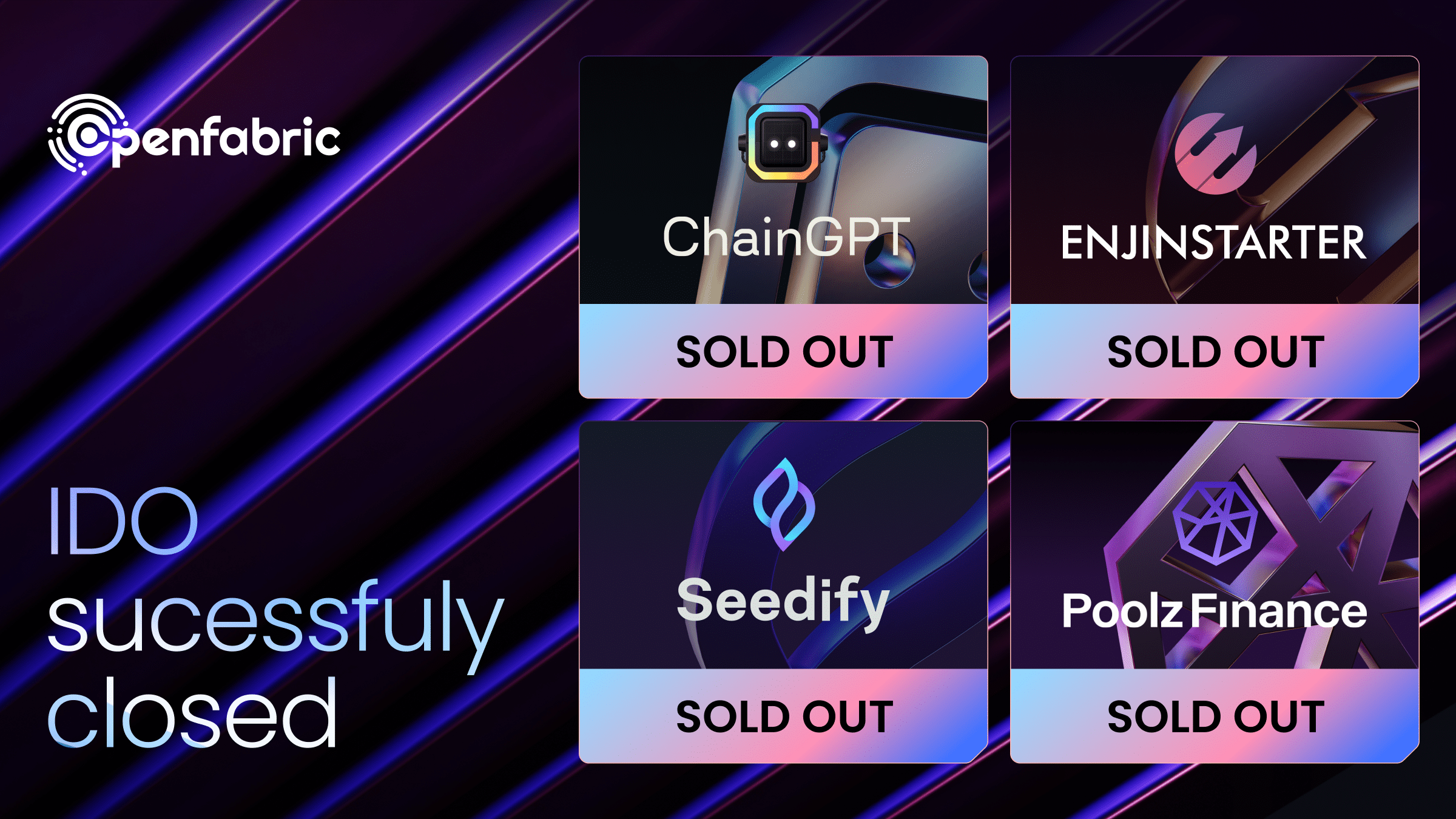 $OFN is listed on CEX and DEX
Amidst the challenging bear market conditions, $OFN celebrated a triumphant launch on both KuCoin and Pancakeswap!
Here are the essential details for your reference:
🚀 KuCoin Listing: https://www.kucoin.com/trade/OFN-USDT
🥞 Pancakeswap Listing: https://pancakeswap.finance/swap?inputCurrency=0x8899eC96ed8C96b5C86C23c3f069c3dEf75b6d97&outputCurrency=0x55d398326f99059fF775485246999027B3197955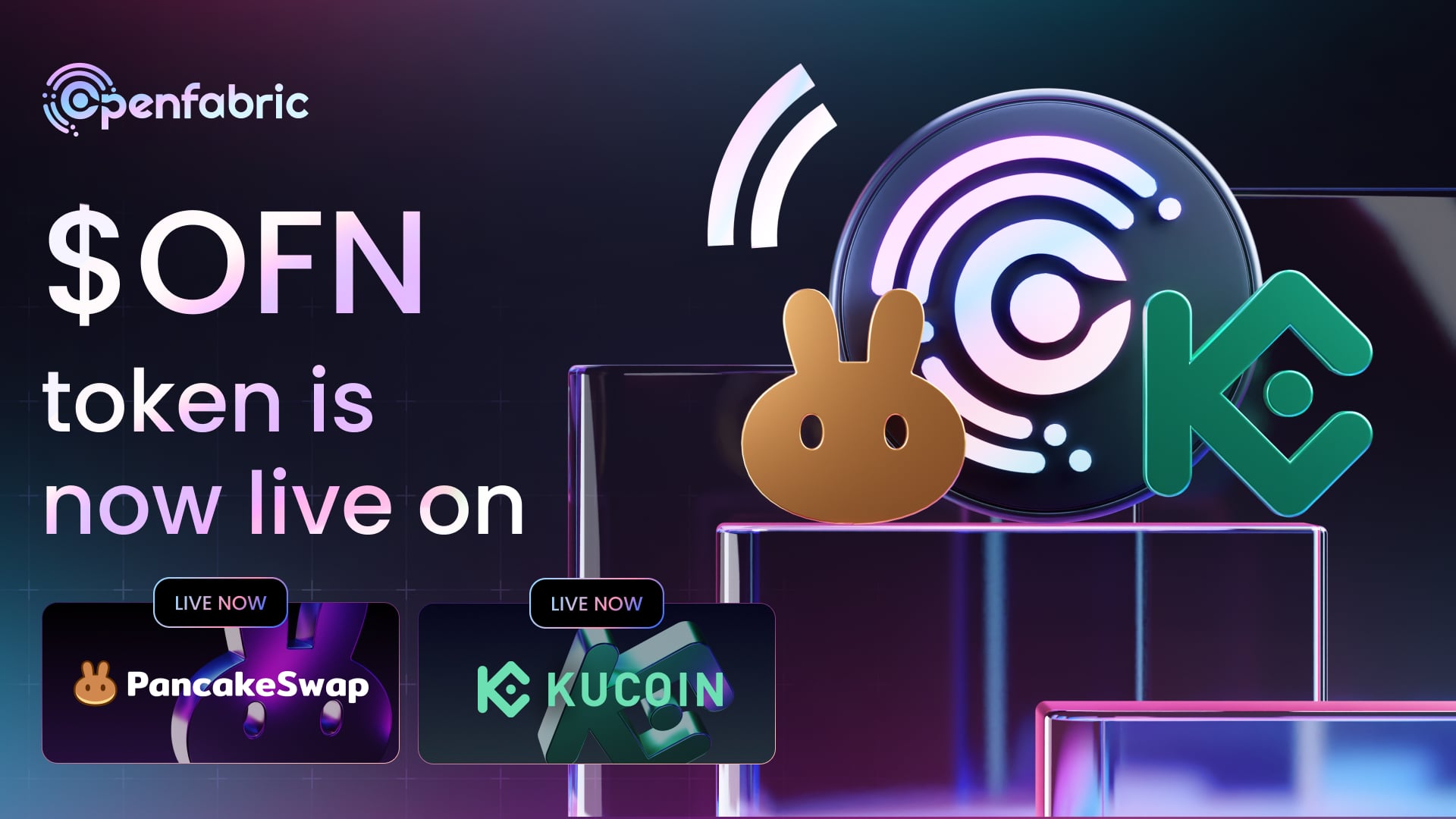 Key Highlights:
🌐 Network: Binance Smart Chain (BSC)
💰 Listing Price: $0.06
📊 Total Supply: 500 million
💼 Initial Market Capitalization (IMC): $733,200
💎 Seed Investors' Profit After Listing: x10
👥 IDO Investors' Profit After Listing: x4
Despite the bear market's challenges, $OFN's successful launch on these prominent platforms is a testament to its resilience and potential for growth. Don't miss the opportunity to explore this promising project!
Staking is live!
In the wake of Openfabric AI's public launch, a thrilling development quickly followed suit. Staking, a novel way to reward the steadfast supporters of $OFN, made its debut.
What's even more astounding is that in less than a mere 24 hours post-launch, the highest staking pool had already reached its limit, leaving enthusiastic investors clamoring for more.
Responding to the resounding demand, we wasted no time in introducing an additional pool to accommodate everyone.
This means that you now have the opportunity to stake your $OFN tokens in any of the pools listed below.
Stake $OFN here: 👉 https://staking.openfabric.ai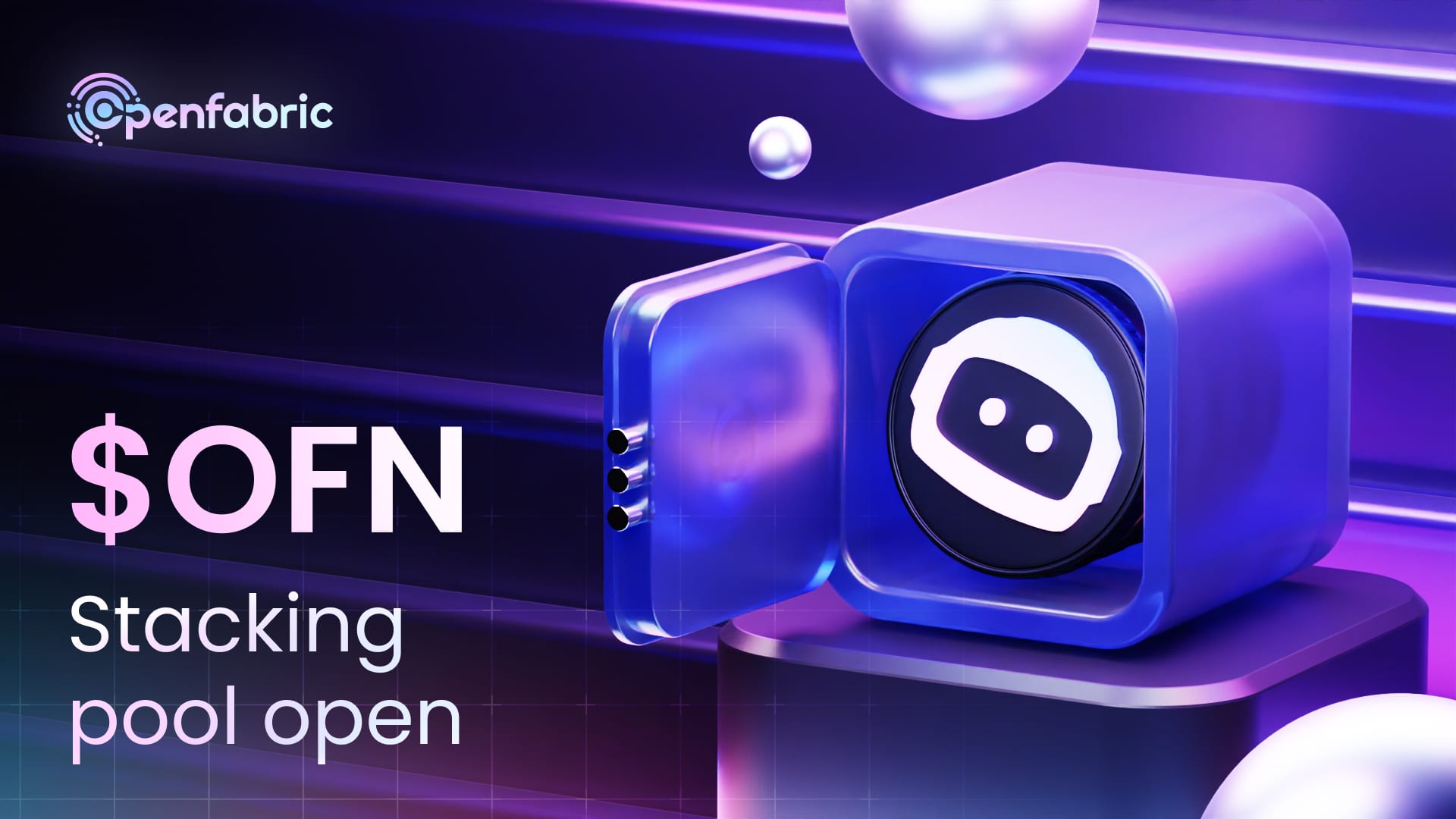 | | | |
| --- | --- | --- |
| Lock term | Capacity | Reward |
| 365 | 24.60% | 200k $OFN |
| 180 | 19.72% | 200k $OFN |
| 90 | 15.02% | 70k $OFN |
| 60 | 11.63% | 70k $OFN |
| 30 | 8.33% | 150k $OFN |
AI Festival is here!
Exciting news, folks! We are thrilled to introduce the Openfabric AI Festival 🎉, a celebration of creativity and innovation.
This one-of-a-kind festival promises a series of weekly unveilings of brand-new generative AI challenges.
Participants will be able to engage enthusiastically in competitions that revolve around crafting content using these cutting-edge AI-driven applications.
🏆 And the best part? We've set up a generous prize pool of $100,000 to make it even more thrilling!
Our festival is proudly sponsored by the incredible support of Kucoin, Seedify, and, of course, Openfabricai 🚀.
The inaugural AI festival, aptly named "Artfabric Halloween," is now live and promises spooktacular fun.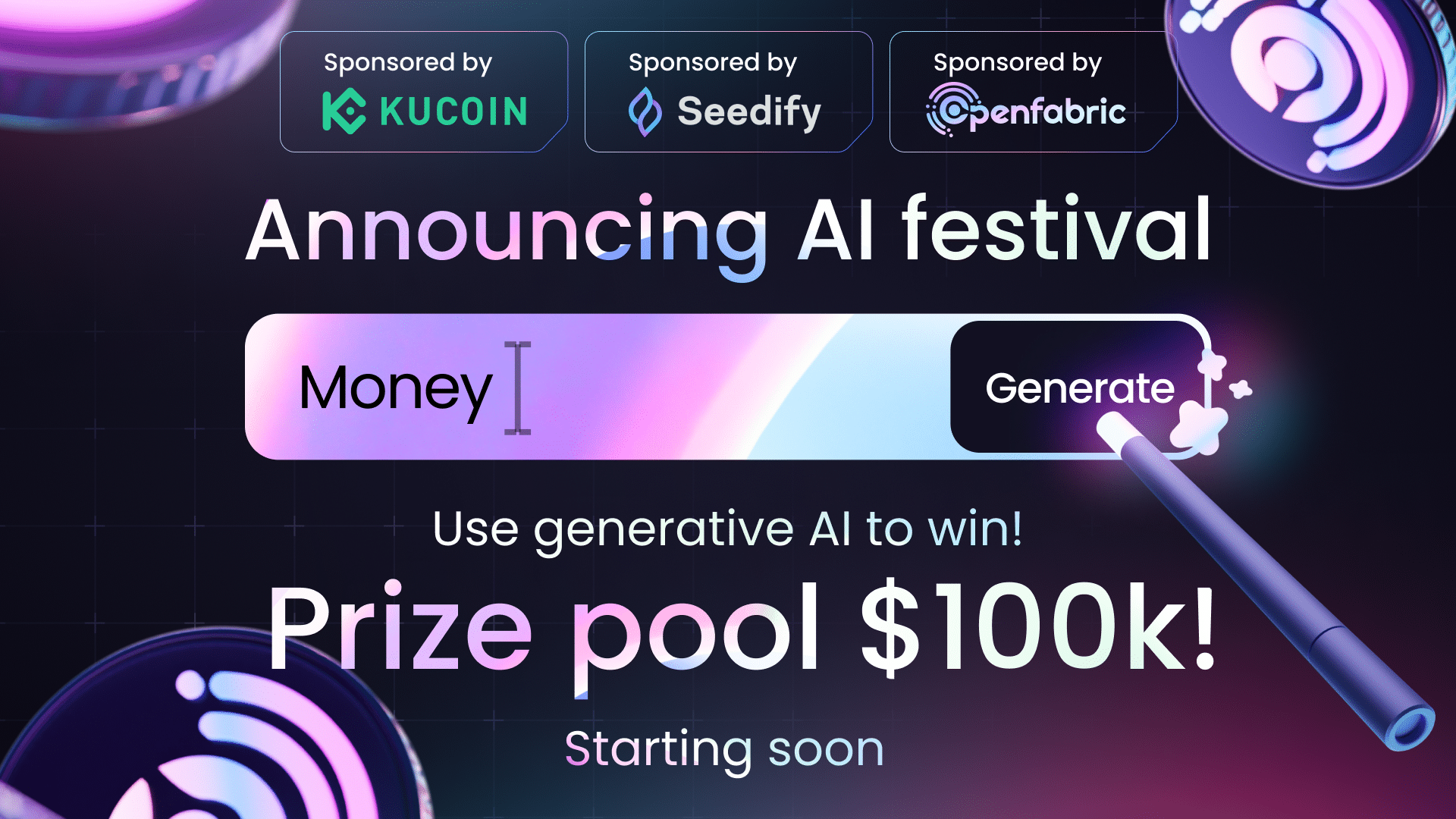 Here's how it works:
1️⃣ Create a Halloween-themed image using Artfabric on Telegram or Discord.
2️⃣ Share your creation by quoting this tweet(https://x.com/openfabricai/status/1719018208659656857) and using the hashtag #ArtfabricHalloween.
3️⃣ Tag three friends who are up for the challenge.
🏆 Prizes await the most creative minds! Five participants with the best art and the highest engagement on their tweets will each win an astonishing $20 in $OFN.
Starting from the 30th of October and concluding on the 5th of November.
Who knows, your creation might just be the lucky one that catches our attention 🤩. So, start creating now and join the excitement:
Telegram: https://t.me/OpenFabricAI
Discord: http://discord.gg/GsbXgUgFVC
Let the Openfabric AI Festival be your canvas for creativity and innovation. Don't miss out on this incredible opportunity to showcase your talents and win big!
What to expect this month
Following the highly successful public launch of the $OFN Token, our focus has now shifted toward the product's development. We're thrilled to announce the impending launch of our testnet, and we're also intensifying our efforts in marketing campaigns to further promote our project.