August has come to a close; we gladly present our fruits of labor in August. It's been an exciting month, and we love to give you a window into our activities and progress. This month is jam-packed with development updates, community interactions, Airdrop, new partnerships, and more. These activities represent significant milestones that highlight our unwavering commitment to expanding horizons and empowering our community with tailor-made tools and resources.
So, let's take a moment and look back at what happened in August. As we move into the second half of 2023, let's recap August's leading developments and community activities!
Redefining Possibilities: The BIG News.
During the month of August, we proudly achieved a flawless 10/10 certification in the recently released Hacken Audit Report. Openfabric's $OFN token has achieved a significant milestone by successfully passing the industry's standardized security audit conducted by Hacken.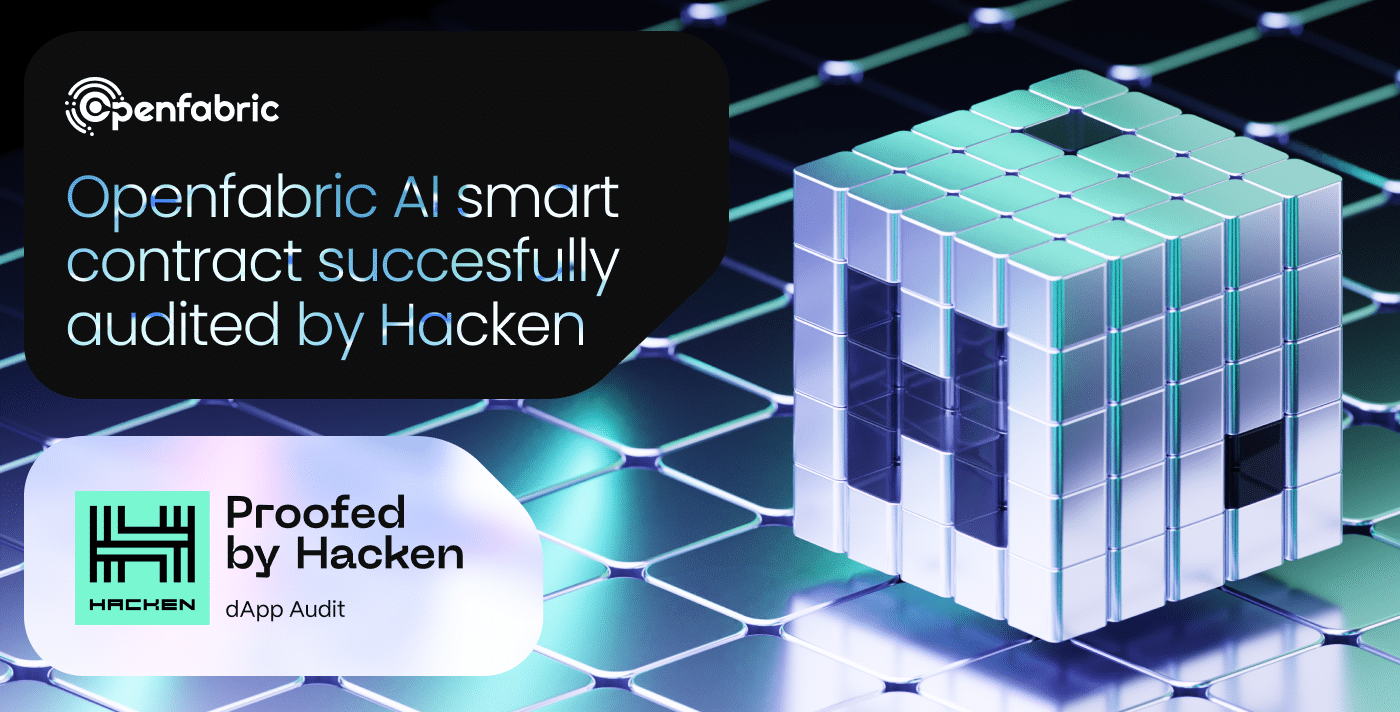 This accomplishment brings great honor and pride to our team, but most especially to our community. Read the full report here.
The BIG Vision
Since our inception in 2019, our mission has been democratizing artificial intelligence; thus, giving power back to the people. Our mission has never been to build a better chatgpt, midjourney or stable diffusion, but rather to give everyone access to the tools and resources needed to build their own AI applications. Watch our CEO explain Openfabric AI Big Vision and what it promises. 
IDO Partnership Announcement 🤝
If you've been following our development, by now you should know that one of our major objectives is to launch our token. Here are our last month IDO Partners:
Following our collaboration with

Seedifyfund, we're eagerly anticipating revealing our upcoming IDO partners.

https://twitter.com/openfabricai/status/1688937352603799553

Openfabric is thrilled to announce our partnership with

Poolz_ who will take a part in the $OFN IDO.

https://twitter.com/openfabricai/status/1689266389545107456

By joining forces, Enjinstarter and Openfabric will create a synergy that drives innovation in both the Web3 and AI spaces. Together, they will explore new possibilities for integrating AI technology into blockchain projects, unlocking exciting use cases, and pushing the boundaries of what's possible in the decentralized world.

https://twitter.com/openfabricai/status/1690001804027723776
New Strategic Partnership:
As mentioned above, we are keen on establishing strategic partnerships with top players within the AI, Web3, and blockchain space to foster our mission more holistically. August has been a testament to our commitment to integrating the right partners into our ecosystem. Thus allowing our respective communities access to unlimited resources and tools. Meeting our new partners.
We teamed up with AI tech, one of our strategic partners that shares a passion for innovation in Web3 & AI. The collaboration will drive advancements and offer insights for both companies.

https://twitter.com/openfabricai/status/1695030721058877873

Being one of the leading players in the space,

Pozzer is a mobility application with NFTs, own Blockchain, WEB3, social-fi and game-fi elements. Our collaboration will allow both ecosystems to have unlimited tools and resources needed to scale. 

https://twitter.com/openfabricai/status/1687071171601137664

Qitmeer, an extended company of DimAI,  would allow theier community to have access to AI tools and resources. 

https://twitter.com/openfabricai/status/1689230353712435201

DimAI is your considerate AI assistant that brings your imagination to life. We teamed up to allow AI-powered innovation meets seamless design, unlocking endless creative possibilities for our community.

https://twitter.com/openfabricai/status/1689630295551832067

Copin focuses on analyzing and copying on-chain traders, particularly on decentralized perpetual exchanges: GMX, Synthetix, DYDX, and more

.

https://twitter.com/openfabricai/status/1691389452482969600

Light Cycle is a super-realistic virtual city made using Unreal Engine 5 and real-time edge rendering. Teaming up with LightCircle means a friendlier metaverse with easy access to AI tools.

https://twitter.com/openfabricai/status/1692174929909977445

Bringing together our AI expertise alongside DexCheck's analytical capabilities, we're positioned to transform the future of crypto analytics!

https://twitter.com/openfabricai/status/1693620306156359874

Teaming up with Carbonio will allow our community to have a more privacy-preserving, secure, and efficient future for Al. Our partnership promises a seamless fusion of innovation and privacy.

https://twitter.com/openfabricai/status/1693994121269235924

Axen AI is a web3-based company that develops innovative AI-powered tools and products to enhance your online experience.

https://twitter.com/openfabricai/status/1696478073598656996

Hyperithm is on a  mission of bringing AI Technology closer to the end user!

Hyperthm's active engagement in the crypto asset and wealth management sector is noteworthy, and the timing of our partnership has proven to be opportune

.

https://twitter.com/openfabricai/status/1693966907907391534
📞 Community Activities  & New Breakthrough App: 
We can say it now without a doubt – this year in AI belongs to generative models. Spanning multiple disciplines and boasting exciting results, it is hard to pinpoint single other technology that can compare. However the limelight has been taken by the likes of image and text generation, making it easy to oversee other revolutionary use cases handled by generative AI. And what if we tell you that the power of this technology can be used to generate the very fabric of our biology – our own DNA. Over the months, we launched the most anticipated breakthrough application. 
New breakthrough: Introducing Openfabric AI Drug Discovery Application
Led by our CEO, our Research & Development and tech team has found a new breakthrough for the health industry. Our most recent Drug Discovery AI application is also well underway in revolutionizing the Discovery of life-saving drugs. 
We wrote an entire blogpost on this discovery. Find it here.
Artificial Humans: AI Genome Generator
Openfabric AI took upon the task to turn eyes towards more unusual examples and this one is definitely one of them. Thanks to the ability of generative models to comprehend complex data structures without strict supervision, researchers have proposed to use them as producers of artificial genomic data that could be used by researchers without the need for resource-intensive data gathering, as well as to evade potential privacy risks that stem from using human genome.
OpenfabricAI Leaderboard is Here:
Prepare to put your skills on display and reap the rewards as we commemorate and honor the invaluable supporters within our vibrant community. It's your exceptional contributions that propel us towards greater heights. Your participation is not just a chance to showcase your abilities but a testament to the strength and unity of our community, driving us all toward shared success.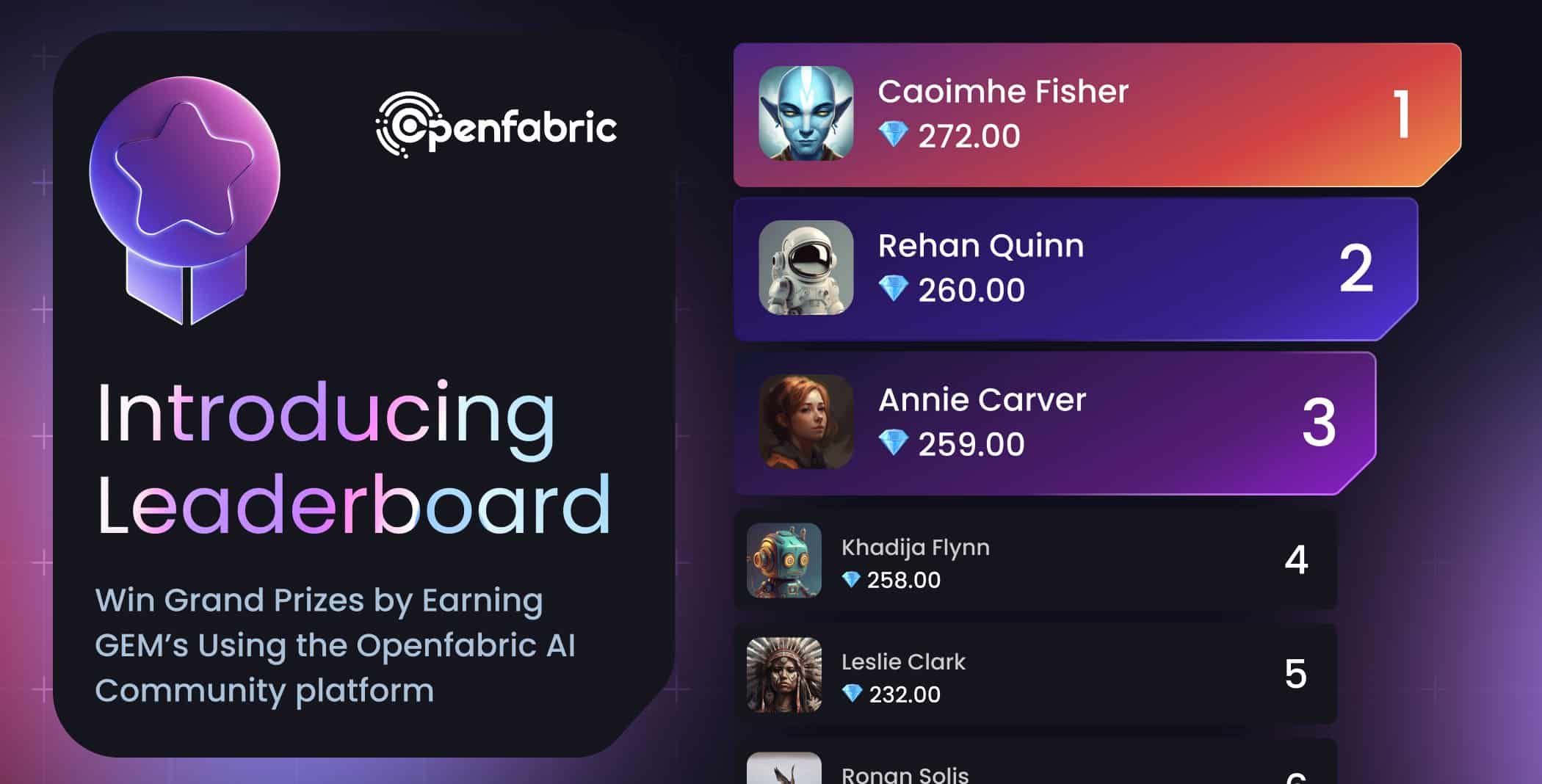 Learn more and join the competition today
Openfabric AI Airdrop is Here:
We're all about staying true to our promise of supporting our community and the amazing worlds of AI and Web3. And guess what? We're thrilled to kick off something big – the $OFN airdrop! This is all about getting our community engaged, spreading the word, and making our protocol even more popular.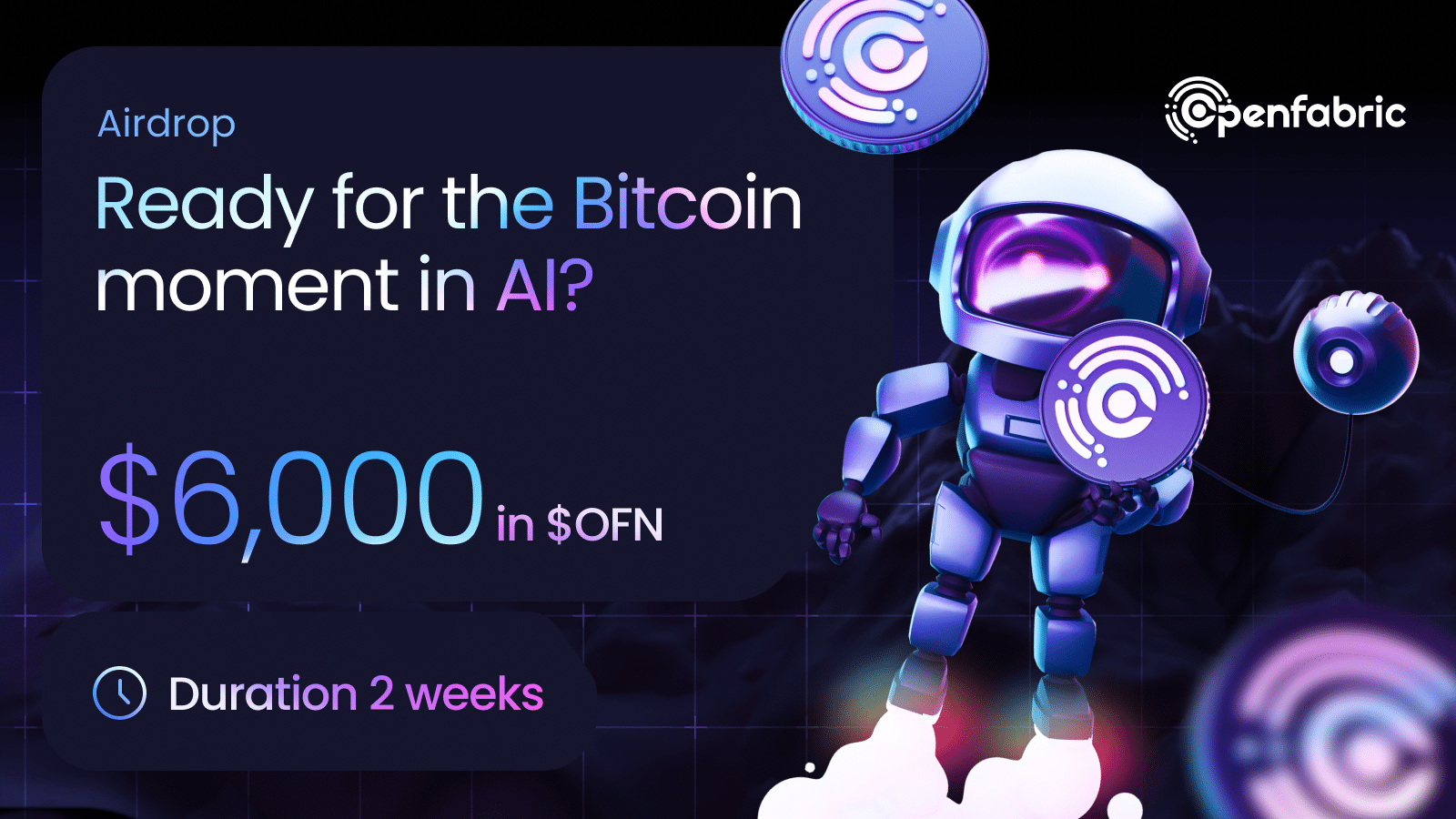 We're giving away over $6,000 worth of OFN tokens – our way of saying a huge thank you to our fantastic community members who make Openfabric AI shine. Exciting time! Keep reading to learn more about the excitement. 
Who Can Get In On the Fun?
Good news – anyone can join in, whether you're an Openfabric AI pro or just curious about what we're up to. 
Campaign hashtags:
#OFN #OFNFastScalable #OpenfabricaiWealthForEveryone #OFNToken #OFNForEveryone
Airdrop detail:
🎁Total Reward: $6000 in $OFN 🚀
🏆 Winners: Random 1000 participants, each will get $5 worth of $OFN
👥 Referrals: Top 10 referrers will get  $50 each.
🎉 Activity Contest: The top 10 most active members over two weeks will enjoy $25 each per week.
🗓️ Airdrop Start Date: 30 August, 2023
📆 Airdrop End  Date: 12 September, 2023
Join the Airdrop through any of these platforms  👇👇
Statistical Highlights: 
In the past month, we've witnessed a significant surge in our Twitter following, with an impressive growth of over 43,000 new followers. This  expansion serves as a clear indicator of our current upward trajectory. Furthermore, these tangible results are not isolated incidents; they symbolize our applications' profound impact on our global community.
The true essence of our progress becomes evident when we delve into the outcomes of our recent AI Everywhere launch, Airdrops, IDO partnerships, and upcoming Token launch. The culmination of our efforts is vividly reflected in the compelling statistics from this initiative. These progresses underscores our commitment to integrating AI across various domains, which has produced outcomes that provide solid evidence of the effectiveness of our approach.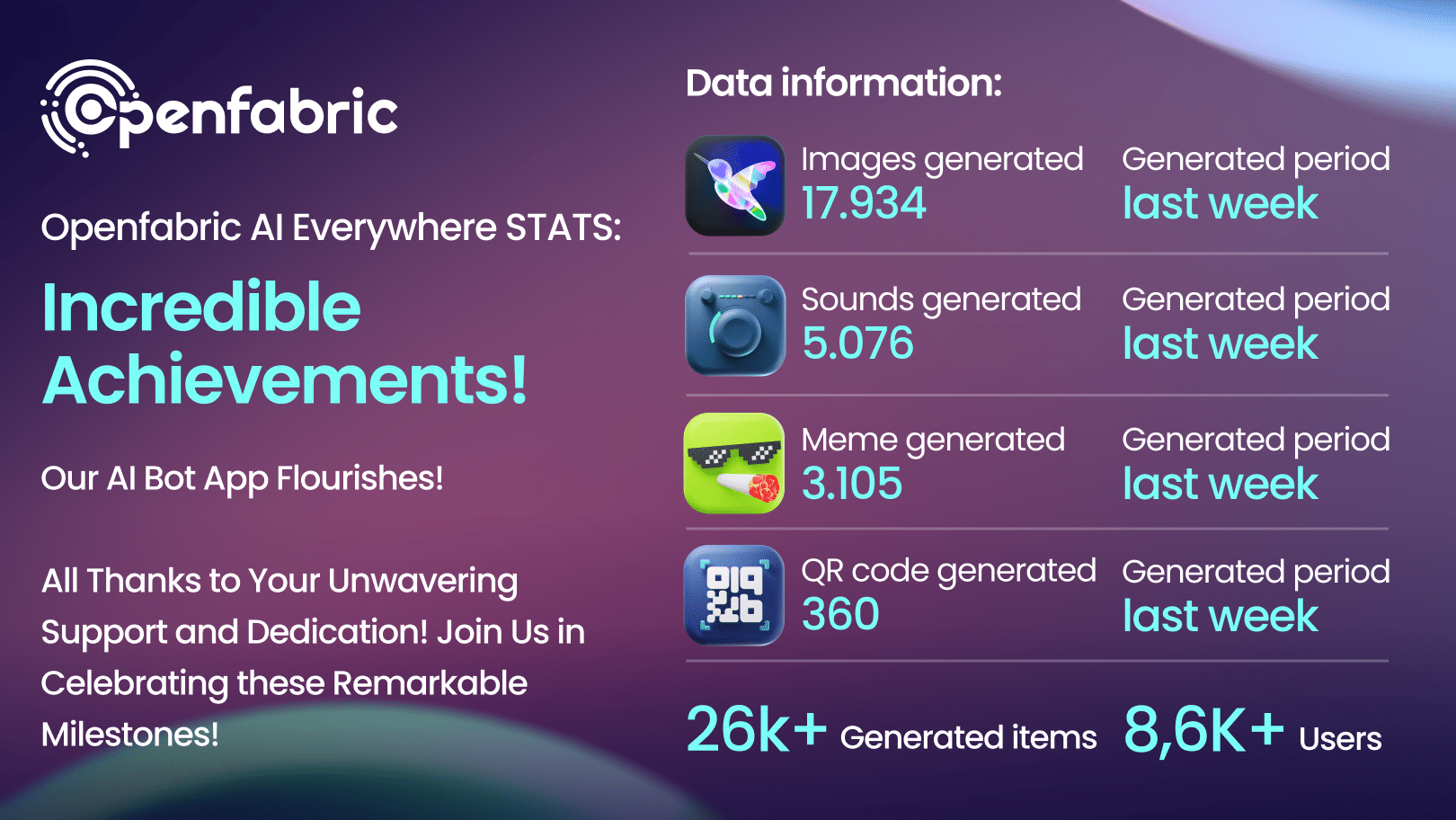 The synergy between our innovations and the resonance they find within our user base is evidenced by the transformative numbers that have materialized. This ongoing journey of growth and achievement stands as a testament to the potency of democratizing AI and its power to revolutionize the way we interact with technology. 
As we push boundaries this September, we're hyped for the upcoming token launch! Stay tuned to our socials as we continue pioneering Artificial Intelligence and building out the ecosystem.