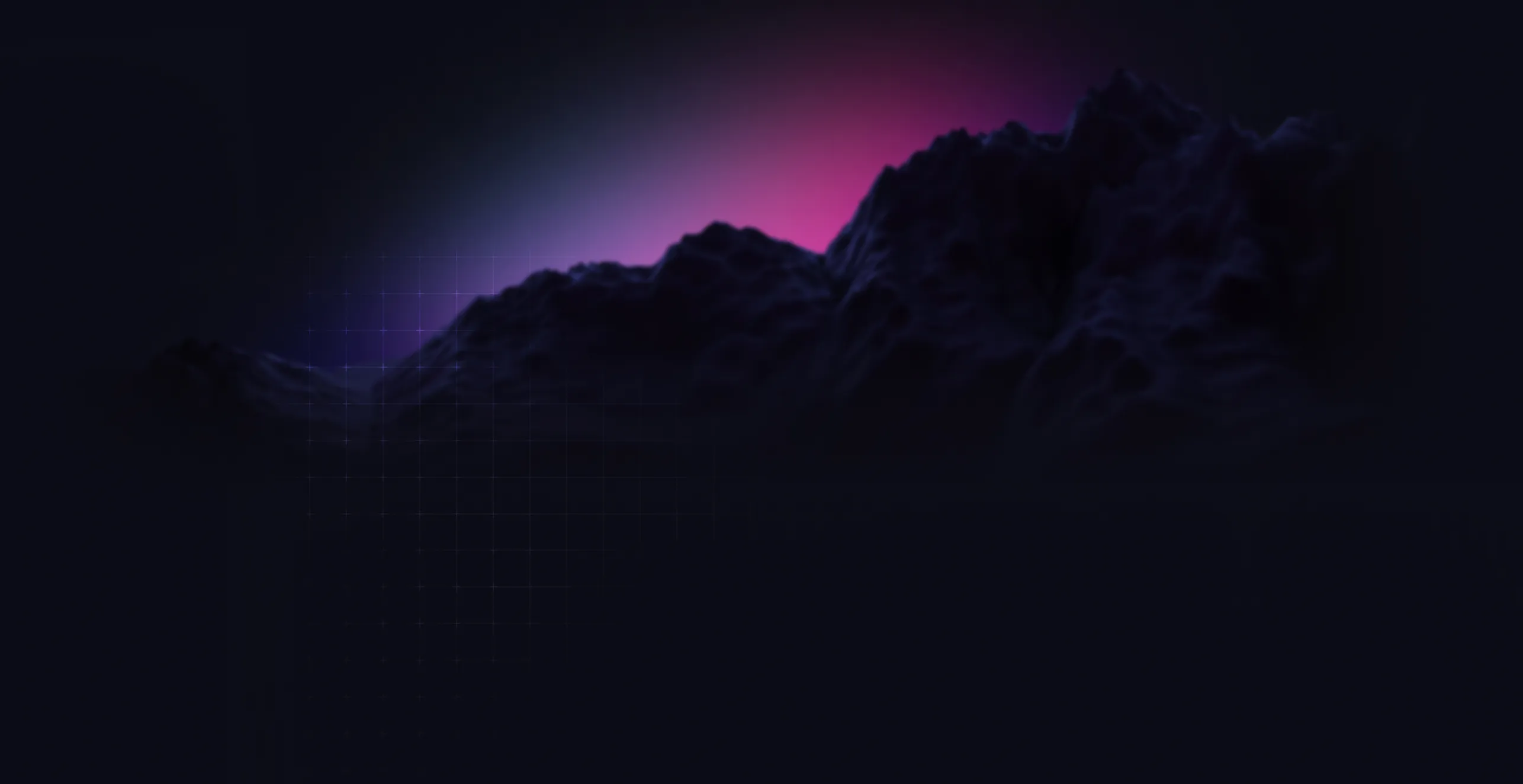 Openfabric 2022 Highlights
January 11, 202318 minutes read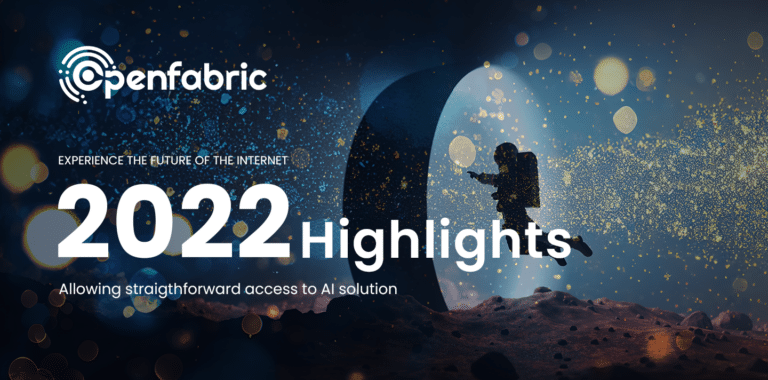 As the year 2022 closed, it is hard to believe how quickly the time has passed. It has been a year filled with major milestones and achievements for Openfabric, including the most notable accomplishment of enabling the deployment of advanced Artificial Intelligence (AI) systems over commodity infrastructure in a decentralized network.
As we look forward to 2023, it is a fitting moment to reflect on the many exciting developments and announcements that occurred in 2022. Openfabric extends its congratulations to all the innovators, community members, and partners who contributed to making the year a success.
Here you will find a summary of everything that happened with Openfabric in 2022, including how the ecosystem navigated challenging market conditions, and why the future looks bright for Openfabric heading into 2023. Access to AI is becoming increasingly important for the continued development of AI ecosystems, and Openfabric is well-positioned to drive this growth.
Protocol Progress
As we look back on the past 12 months, it's clear that significant advancements have been made on the protocol level for Openfabric. With a clear roadmap in place for 2023 and beyond, the team has been working hard to upgrade the platform and develop new tools for developers. The Openfabric protocol has made great strides in its preparations for the Public Testnet launch.
For anyone interested in following along with the progress of the protocol, all development statistics and activities can be viewed in real-time on the Openfabric website https://openfabric.ai/stats. The website also features a detailed journey of the protocol's development, including updates each time the team pushes modifications to their Git repositories. It's definitely worth taking a look at the website and experiencing the journey for yourself.
Openfabric Alpha Launch
The past year has been a pivotal one for Openfabric, as we released the Alpha version of our platform and made significant strides in our quest to democratize access to AI. Through the use of cutting-edge technologies such as blockchain, distributed ontologies, and advanced cryptography, we were able to build a powerful and scalable AI ecosystem that simplifies interactions with AI systems. The Alpha version allowed us to test our concepts and research elements against real-world constraints and technical limitations, providing valuable feedback for our team as we continue to refine and improve our platform.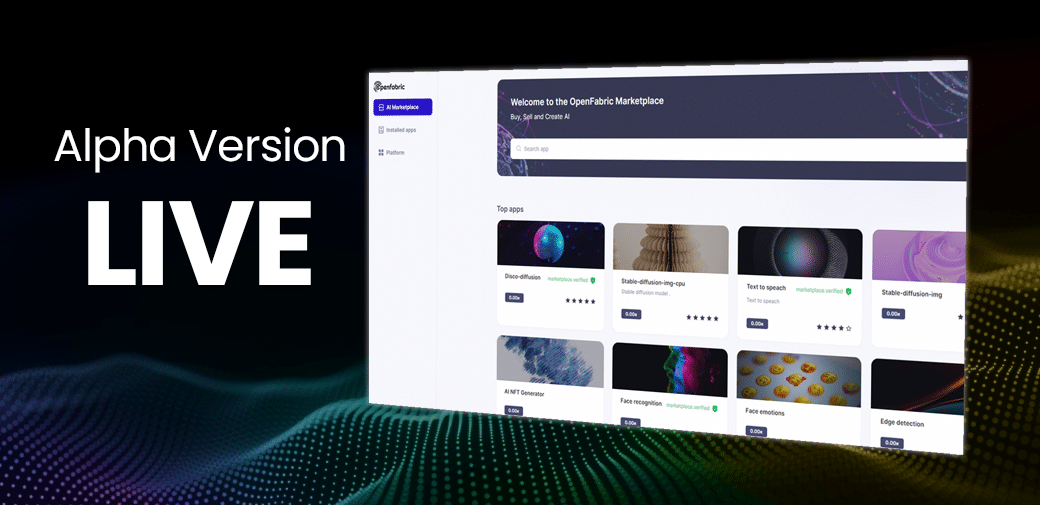 Early use-cases release
Openfabric has made significant progress in the development of its protocol and has released several early use cases, highlighting the protocol's ability to handle a wide range of applications and providing a seamless user experience. These use cases have provided valuable insights into the capabilities of the protocol and have further reinforced our vision of democratizing access to AI. They have also allowed us to test and refine the features and functionality of the protocol, ensuring that it meets the needs of our users and provides a reliable and efficient platform for AI development and deployment. The use-cases were designed to show how easy it is to train and deploy AI models on the Openfabric protocol, as well as to showcase how the protocol can be used to build powerful and sophisticated AI applications. With a user-friendly interface, anyone with little to no technical knowledge can use the platform to create complex AI models and deploy them to the network. This is a major step towards achieving our goal of democratizing access to AI technology.
The use cases presented demonstrate the versatility and efficiency of the Openfabric protocol and highlight how it can achieve its goal of democratizing access to AI through improved user experience. These use cases serve as a representation of the different ways in which users can interact with the protocol.
Cognitive assistant – a chatbot that uses natural language processing (NLP) to understand and respond to user input in real time. This tool allows users to have a conversation with the chatbot, similar to ChatGPT, and get answers to questions or assistance with tasks. With Cognitive Assistant, users can interact with the chatbot in a way that feels natural and intuitive, making it a convenient and efficient way to get information or support.
Book Summarizer – a tool that helps users understand and extract the main points from large blocks of text, such as long articles or entire books. With this tool, users can quickly and easily get a summary of the key ideas and information contained in the text, saving time and effort.
Face recognition – a tool that allows users to identify and recognize human faces in real time, using images or video streams as input. With this use case, users can quickly and accurately identify individuals in photos or videos, making it a valuable tool for a wide range of applications such as security, social media, and more.
The demos for the abovementioned use cases can be reviewed in the video below:
Early documentation release – AI App development for the Face Recognition
To further engage users and gain valuable feedback on the platform, we released early documentation and tutorials that detailed the development and deployment process for various use cases. One example is a video tutorial that walks users through the integration steps required to deploy a Face Recognition AI App on the Openfabric protocol. This allows users to understand the capabilities and potential of the platform, and provide valuable feedback to help improve the overall user experience and functionality of the platform.

Early innovators program
During this program, a group of early adopters and developers experimented with the capabilities of Openfabric, using its tools to build a wide range of AI applications. These ranged from natural language processing and analysis to generative video, object recognition, text-to-speech, and contextual transactions, and other capabilities. These early pioneers were able to explore the potential of the platform and provide valuable feedback for further development.
Integrations
During the development phase, our team focused on creating a seamless integration between AI and blockchain technology. By partnering with several blockchain platforms, we were able to bridge the gap between these two technologies and make it easier for developers to create useful AI dApps for a variety of different use cases on top of blockchains such as Algorand, Avalanche, API3, Chainlink, Harmony, Polygon, and Reef.
This integration not only facilitates the creation of dApps, but it also makes the whole process cost-effective and hassle-free. Developers from any supported blockchain will be able to create AI dApps for a wide range of industries and use cases, from linguistic analysis to generative video, object recognition, text-to-speech, and contextual transactions.
To give you a better idea of the possibilities, we have created a series of videos showcasing the different use cases and possibilities of the Openfabric platform. We encourage you to take a look at these videos and explore the potential of the platform for yourself.

Breakthrough Innovation – HyperAI
Openfabric has made significant progress in deploying powerful AI algorithms in a decentralized manner, allowing for the execution of complex AI models on standard infrastructure. This is a major step towards building one of the world's first planetary-scale AI networks. Hyper AI, which is the result of combining multiple AI models, can now be achieved on standard infrastructure, and the possibilities are endless as demonstrated in the sample AI use case illustrated in the image below.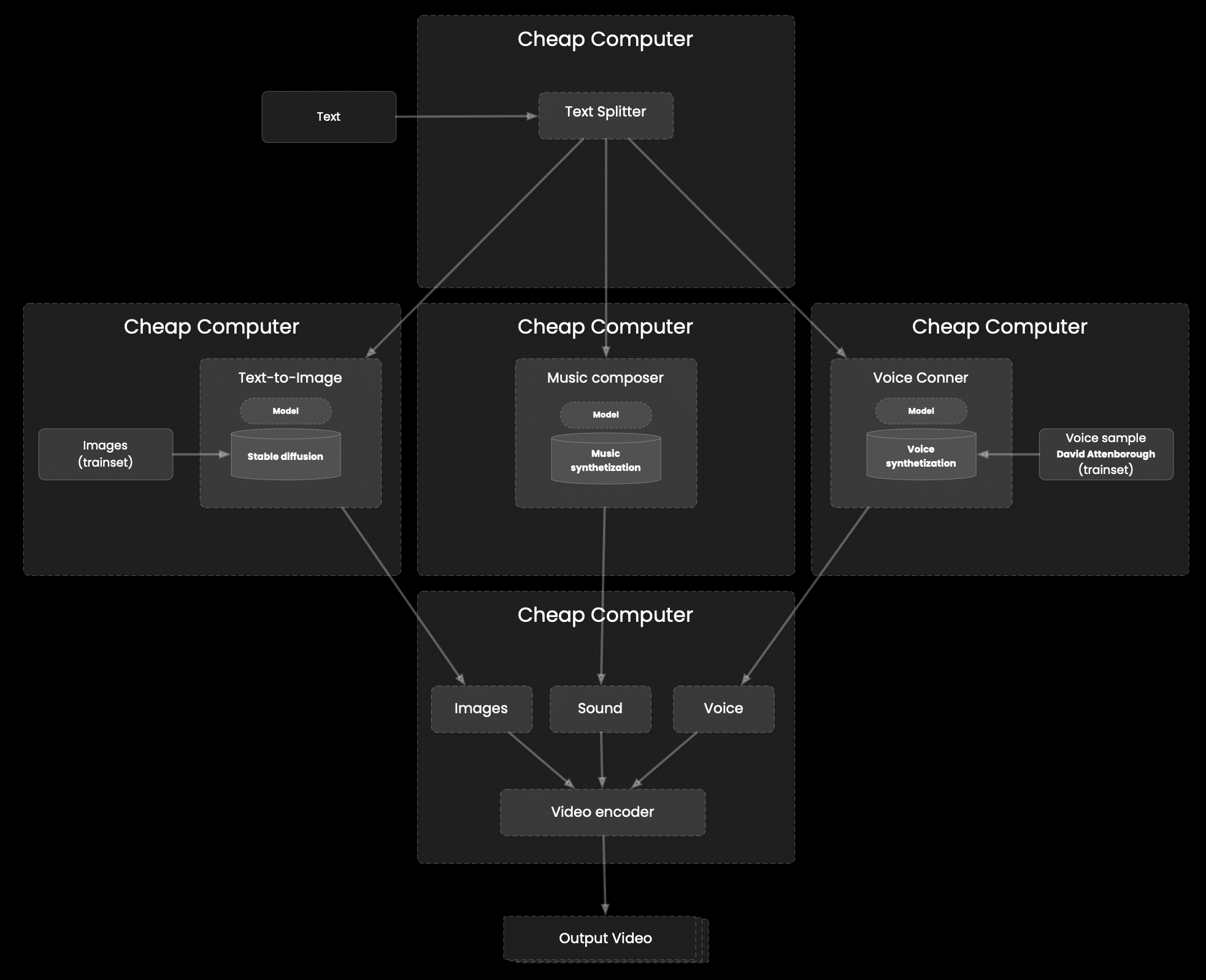 Endless possibilities powered by HyperAI
HyperAI has opened up a vast array of possibilities for creating more advanced, user-centric, and robust solutions. We have showcased the capabilities of combining multiple AI models through several demonstrations, highlighting the power of this approach.
Story teller
The release of the Storyteller use case was a significant milestone for Openfabric, as it showcased the capabilities of HyperAI in creating innovative, visually-appealing, and interactive AI-powered solutions. By using a combination of AI models, Storyteller was able to generate videos that were not only of high quality but also able to capture the audience's attention with its unique and compelling content. The use case was a clear demonstration of the potential of HyperAI to revolutionize the way we create, share, and consume content. Overall, Openfabric is looking forward to continuing exploring the full potential of HyperAI and other similar applications and empowering users with powerful AI-based solutions.
The output of our demo can be seen in the following video:
Video generator
Text-to-video conversion serves as an important use case that demonstrates the capabilities of the powerful HyperAI system.
Using this tool, users can simply enter a text prompt into the interface, and HyperAI works its magic to convert that text prompt into a high-quality AI-generated video.
The resulting output demo video can be seen below:
Research Progress
Our team at Openfabric places a strong emphasis on research, constantly working to refine and improve the concepts behind the protocol. Our dedication to research has paid off, as we have successfully published multiple papers on leading Computer Science conferences, demonstrating our commitment to advancing the field.
Major research paper publication on Springer
Our team also presented a new ontology model that enables interoperability between different AI agents, providing a standardized way for them to communicate and cooperate in order to solve complex problems. The paper delves into the technical details of how the model was implemented and tested, and the results show that it is able to improve the performance of AI systems by enabling more efficient communication and cooperation among agents. This research is a significant step towards making the Internet of AI a reality, and we are excited to see how it will continue to shape the future of AI technology.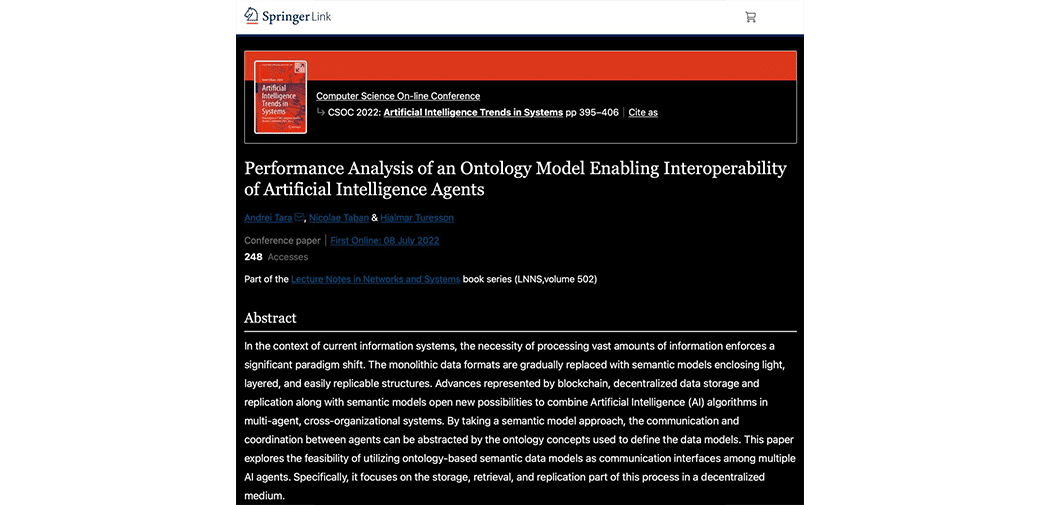 Strategic Investment Partners Onboarded:
Our company has received investments from notable venture capital firms such as GSR, Cogitent Ventures, and Big Brain Ventures, who recognize the potential of our platform and have joined our ecosystem as long-term trustworthy backers.
This support from industry leaders is a testament to the cutting-edge technology and innovation that the Openfabric team has developed. We are committed to continue driving progress in the field of decentralized AI and revolutionizing the way we interact with these technologies.

Ecosystem Growth
Community Growth
The community growth has brought together a diverse group of individuals and organizations, all with different backgrounds and expertise. This diversity has led to new ideas, perspectives and collaborations that have helped drive the platform's development and progress. The community-driven approach has also helped to foster a sense of trust and ownership among members, making the platform stronger and more resilient. The Openfabric team is excited to see this growth continue as we work towards our goal of creating a planetary-scale AI network: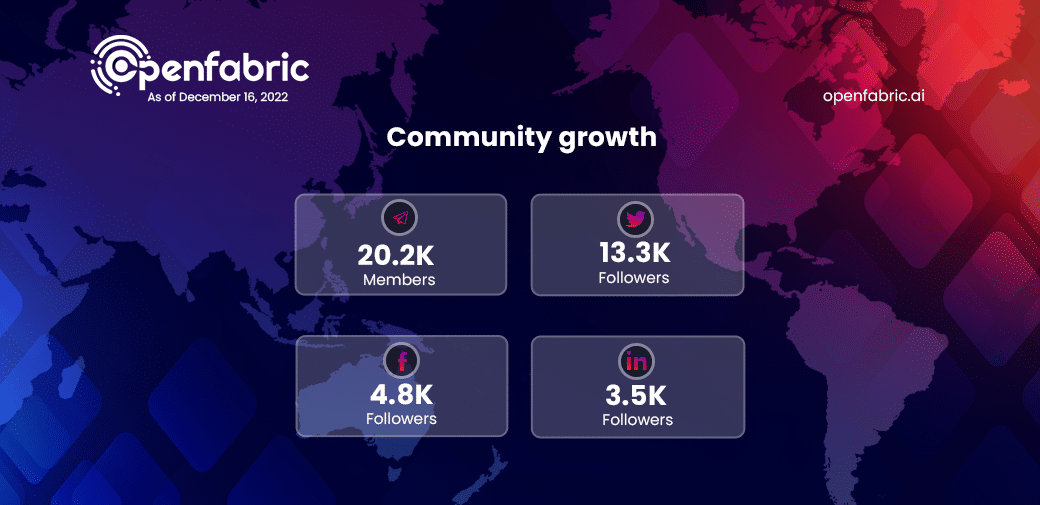 Community Portal
The Openfabric team has introduced a new Community Platform, which aims to provide a way to recognize and reward the contributions of its community members. The platform is designed to provide an easy way for members to track their progress and rewards and to encourage participation in the ecosystem. With this platform, we are looking to strengthen the relationships with our community members and foster a sense of belonging among them, with the ultimate goal of growing the ecosystem.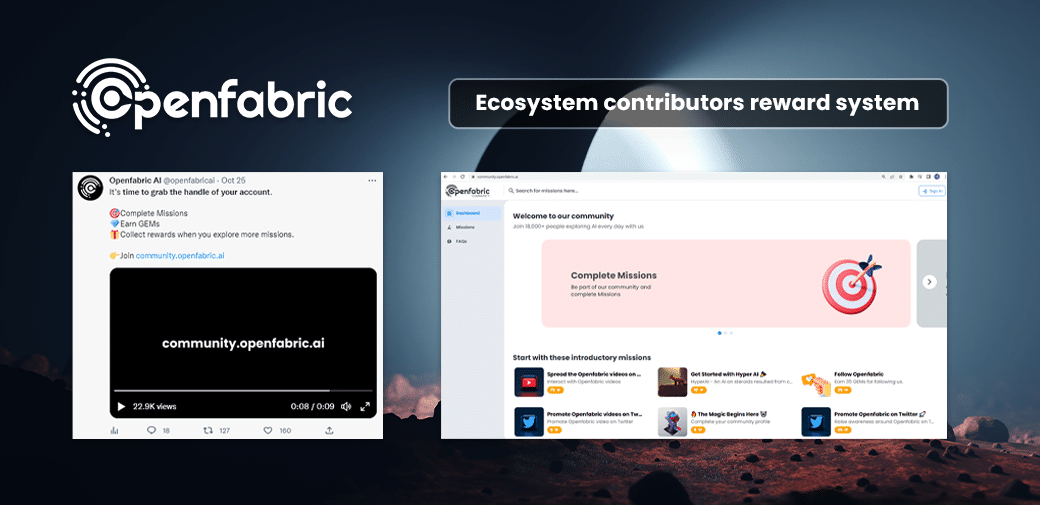 Partnerships
In 2022, Openfabric experienced significant expansion and progress through partnerships with other industry-leading technologies like the IPFS, API3, DeepSquare, Utu, Datality, Valist, Caduceus, zkSync, DigiFinex, DataUnion, IllumiShare SRG, Natix, Radom Network and Reef. These collaborations were crucial in promoting the integration of AI and Web3 to a broader audience. Our involvement in various industries, including gaming, music, non-fungible tokens (NFTs), and the metaverse, have demonstrated the vitality and potential of the Openfabric ecosystem for the future. With all of these advancements, we are confident that 2023 will be an even more prosperous year for Openfabric.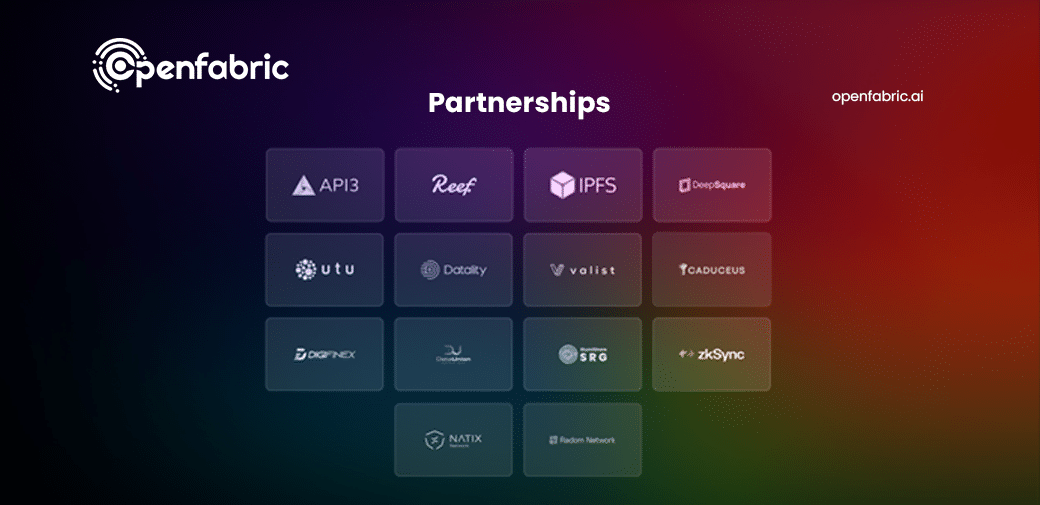 New Advisors onboarded
In addition to the partnerships and collaborations mentioned above, the Openfabric team also made great strides in expanding its advisor network. Throughout 2022, we were fortunate enough to bring on board a diverse group of experts in a wide range of fields, including AI, blockchain, and finance. These advisors have provided invaluable guidance and strategic insights as we continue to evolve and grow the Openfabric ecosystem. With their experience and knowledge, we are confident that we will be able to navigate the challenges ahead and continue to build a robust, innovative platform for the AI revolution.
Raghu Bala –We are thrilled to welcome Raghu Bala as a new advisor. Raghu is a highly experienced technology entrepreneur with a background at companies like Yahoo, Infospace, and PwC. He brings expertise in Web3, AI, NFT, Defi, Metaverse, and IoT and is currently teaching MIT AI and Blockchain on GetSmarter. Raghu has a wealth of education from esteemed institutions such as Wharton, MIT, Columbia, and Stanford. We are excited to have Raghu's knowledge and experience on board as we continue to innovate and grow the Openfabric ecosystem.
Miles Carroll – Bringing Miles on board to our team provides us with valuable expertise, perspective, and guidance in developing and solidifying a WEB3-based business ecosystem. His addition to our team is a significant endorsement of Openfabric's vision and capabilities.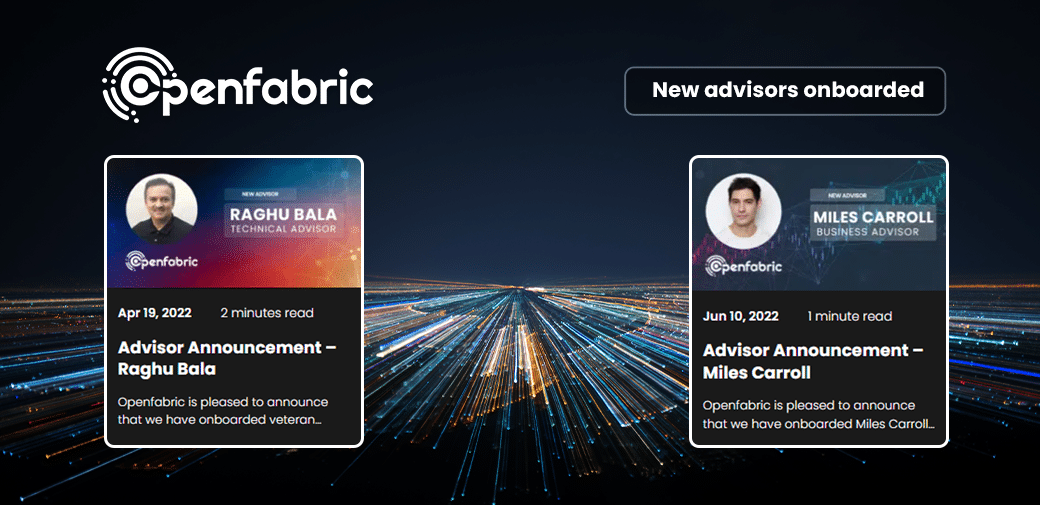 Events Attendance
In 2022, the Openfabric team attended a variety of web3 and AI events, including conferences, meetups, and hackathons. These events were an excellent opportunity for the team to showcase their work and share their vision for the future of AI and web3 with a broader community of developers, entrepreneurs, and researchers.
Overall, the team's attendance at these events helped to raise awareness about Openfabric and its mission to democratize access to AI and Web3 and created valuable opportunities for networking, learning and sharing knowledge with other members of the community.
These events provided us with the opportunity to share our vision and approach to democratizing AI, as well as to learn from other leaders in the field.
Avalanche summit in Barcelona
The Openfabric team was excited to attend the Avalanche summit in Barcelona, where we had the opportunity to connect with over 4000 industry leaders, thinkers, innovators, and creators in the field of AI. We were able to share our vision, learn from others and gain valuable insights into the latest trends and developments in the field. The conference provided a great platform for us to showcase our innovations and technology, and we were thrilled to be part of such a vibrant and dynamic community. It was an unforgettable experience and we look forward to more events like this in the future.
Sustainable Blockchain Summit
Openfabric is committed to promoting sustainable blockchain solutions and was proud to be a part of the Sustainable Blockchain Summit, where industry leaders came together to discuss ways to reduce the environmental impact of blockchain technology. Our team participated in the event and contributed to the conversation on how to make blockchain more eco-friendly.
Ethcc Paris
It was a memorable week for the Openfabric team in Paris at Ethcc, where they were able to participate in a variety of events, hold valuable meetings, pitch their project, and connect with other projects that share similar goals and values. The team also got to exchange ideas and knowledge with industry leaders, innovators and thought leaders in the Ethereum ecosystem, and solidify their position as an active member of the community. The event is an important platform to be able to showcase new developments, network and learn from other players in the blockchain world.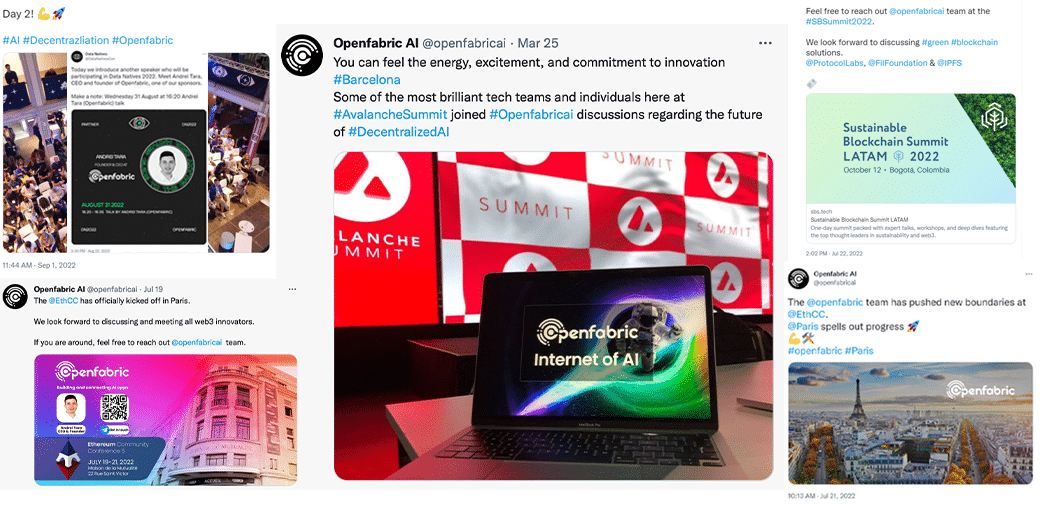 Datanatives
The Openfabric team was delighted to attend and participate in the Datanatives event as a member and sponsor. Our CEO, Andrei Tara, also had the opportunity to speak and share insights on the latest developments in AI and Web3 technology. The event brought together industry leaders, thinkers, innovators, and creators, making it an ideal platform to connect and network with like-minded individuals while pushing the boundaries of AI technology.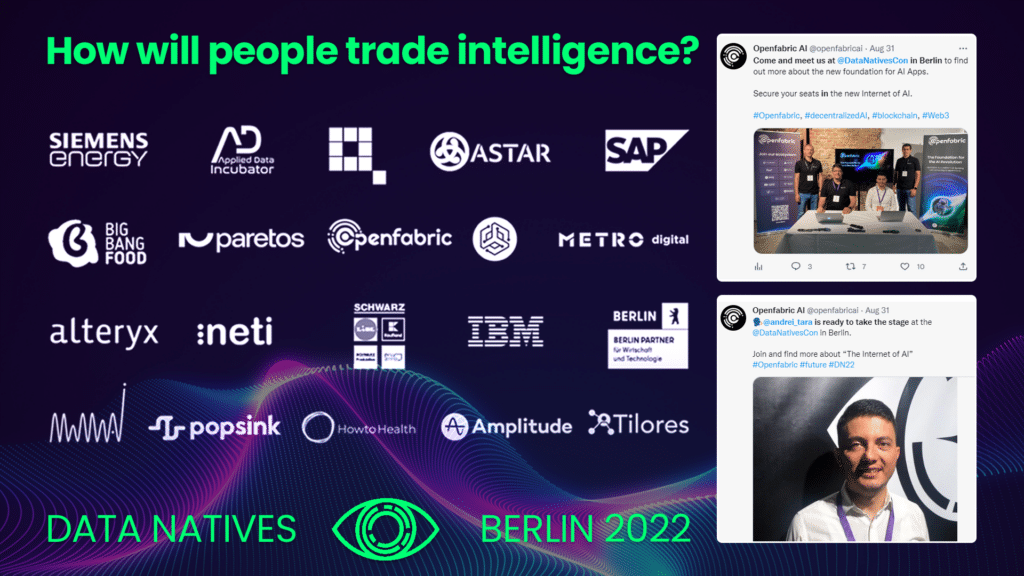 In addition to these events, the Openfabric team also attended numerous other conferences and meetups throughout the year. These events were a great opportunity for the team to connect with other like-minded individuals and organizations working in the field of AI and blockchain, as well as to showcase Openfabric's innovations and advancements in the field. It also provided valuable feedback and insights that helped us to improve our platform and better serve the needs of our community. Overall, the events in 2022 have been an invaluable experience for the Openfabric team and we look forward to continue participating in similar events in the future.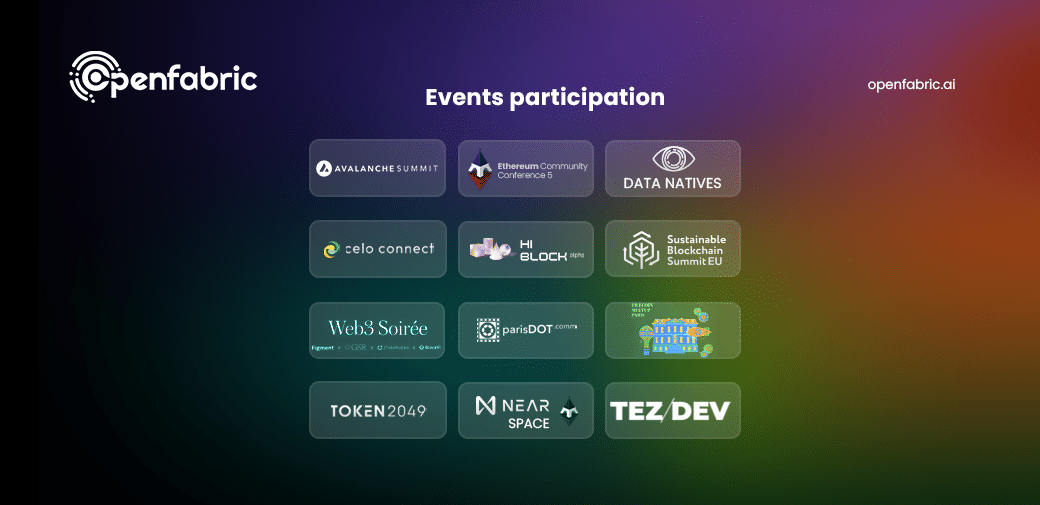 Looking Ahead
As we look to the future, Openfabric will continue to be at the forefront of the Decentralized AI movement, working tirelessly to promote transparency and open communication with our community. Throughout 2022, we have placed a strong emphasis on building and strengthening relationships with partners and stakeholders across various industries.
In the coming year, we are excited to announce the launch of our Public Testnet, which will allow developers and users to test and experiment with the platform's capabilities. Additionally, we will be releasing our token, which will serve as a vital component of the Openfabric ecosystem, powering the network and incentivizing community members to contribute to its growth.
As we continue to expand and evolve, we will continue to seek out strategic partnerships that align with our vision for a more decentralized, inclusive and equitable future for AI. We look forward to working with a diverse range of projects, organizations, and individuals to make this vision a reality.
Openfabric Public Testnet Launch
As we look to the future, Openfabric will be introducing its Public Testnet in Q1 of 2023, and this will allow developers and users to test and experiment with the platform's capabilities and features. The openfabric ecosystem will now be open to everyone, making it more transparent and inclusive with easy access to AI technology. This is a major milestone for us, and we look forward to working with a diverse range of projects, organizations and individuals to make this vision a reality.
We have been dedicating ourselves to providing a new and creative method for connecting developers of AI with infrastructure providers, data providers, and end-users seeking AI services.
As a beta tester, you'll have the opportunity to be among the first to try out Openfabric AI Marketplace and provide valuable feedback that will help shape its development. During the beta period, you'll have access to all of the features and functionality of AI Marketplace at no cost.
In appreciation for your time and feedback, we'll also be offering special incentives to our beta testers. Visit Openfabricai Community Dashboard | Missions section to find out more.
If you're interested in participating in the beta test, simply sign up using the form on our website.
Spaces are limited, so don't wait! We can't wait to welcome you to Connect and hear your thoughts on the platform.
Some early sneak peek on what's coming next
We are excited to unveil a comprehensive suite of tools and features that will greatly enhance the user experience for developers, infrastructure providers, data providers and service consumers on our platform. This includes the launch of our AI Xplorer, a user-friendly interface that allows easy navigation, configuration and use of AI apps. Additionally, we will be releasing our AI Pay, a built-in digital identity and payment wallet that enables participants to conduct transactions in a decentralized and secure way. To further simplify the development, deployment and integration of AI apps, we will also be releasing our AI DevKit, an integrated set of tools and resources for developers. These features are designed to make it easier for users to access and utilize the full potential of AI technology on our platform, and we are excited for the community to start testing and experimenting with them on our public testnet.
AI Xplorer – users can now easily navigate, configure and use AI Apps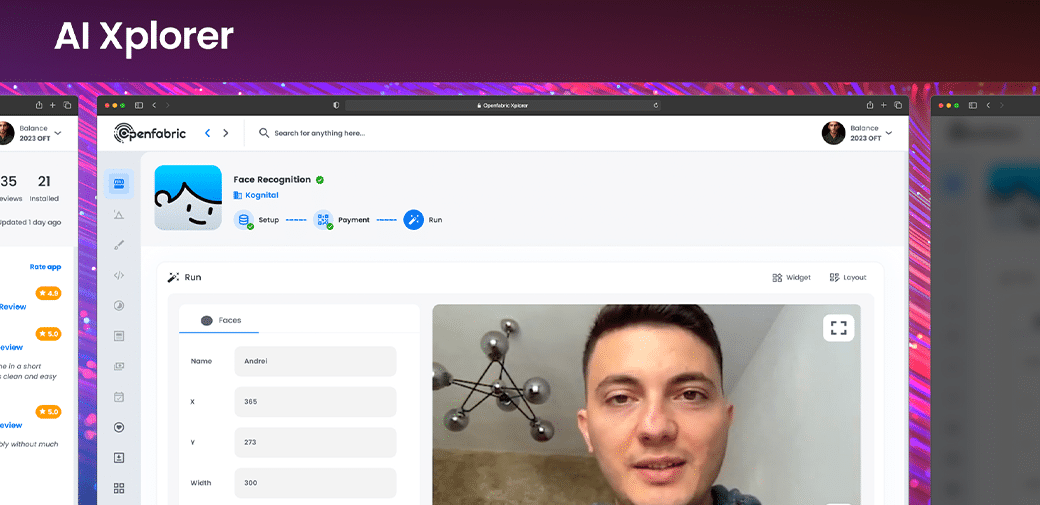 AI Pay – a built-in digital identity and payment wallet enabling participants to pay/do transactions in a decentralized way.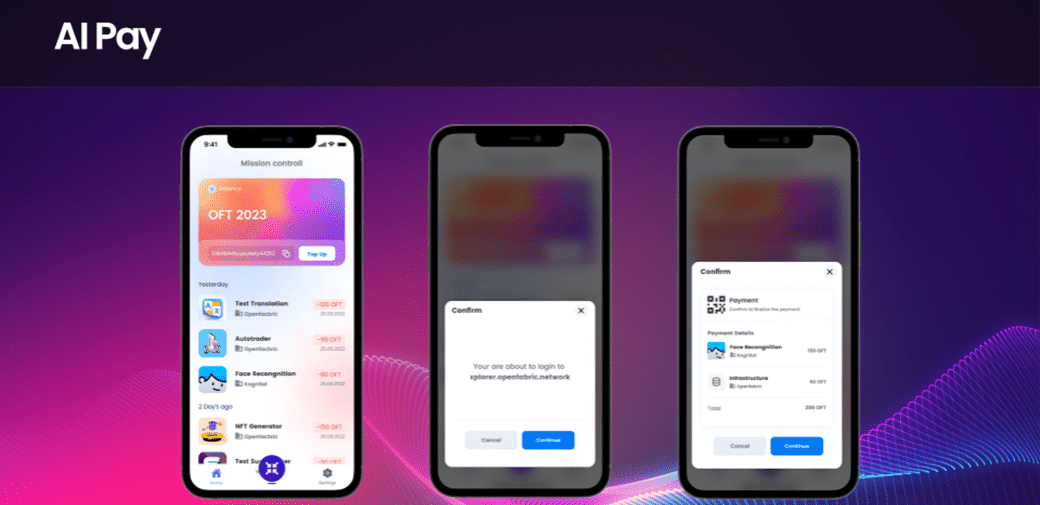 AI DevKit – The AI DevKit streamlines the process of creating and implementing AI-Apps by providing developers with a comprehensive set of tools for development, deployment, and integration.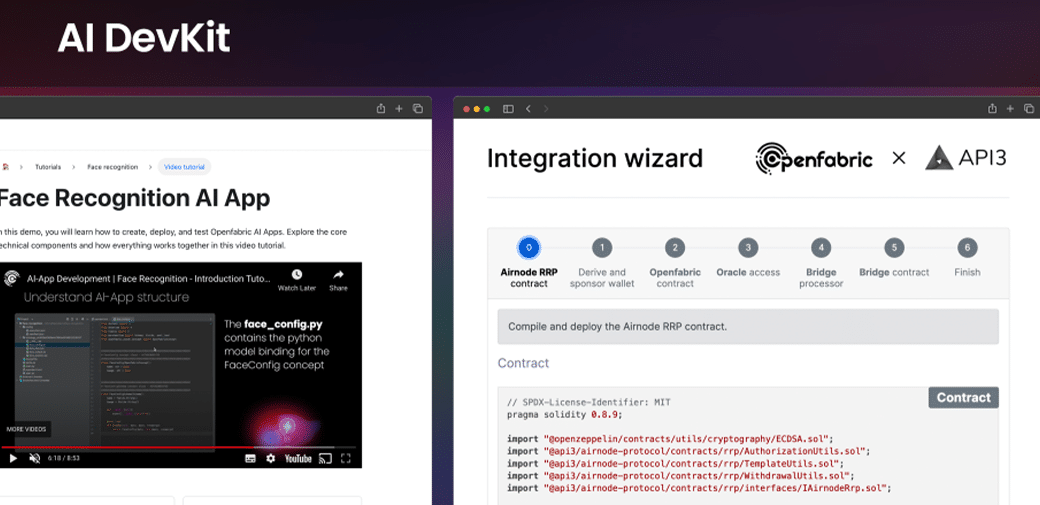 And this is just the begining!